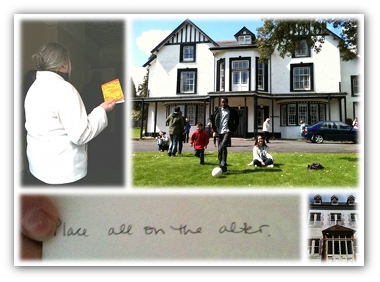 [ Place All on the Altar! ]
On Sunday 31st March 2013, I went to Penllergaer to walk with God. While I was walking, I heard, "Go back to the beginning!" This voice was lingering nearly all day. A few days previously, I had got a phone call from a friend of mine in Swansea. He was organising an Easter Egg Hunt for children on Monday 1st April and he wanted me to bring over my son Noah and family to Swansea on BCW site. I reluctantly went and found that Derwen Fawr house was opened.


Later on I called my younger son Yohan to come to the Blue Room with me because his conception and birth are deeply related to our journey of faith. I took a couple of photos of him in the room and I saw a card on the top of fire place. As soon as I looked at it, God spoke to me loudly and firmly. "Place All on the Altar!" On that card there were a few Bible scriptures and this hand writing. Only this sentence jumped out to me and convicted me. Later on I found that a lady sent this card last November from Penllergaer area. Isn't it interesting? One day I heard "Go back to the Beginning!" and the next day "Place All on the Altar!"


In January 2009, our family started going to the BCW sites every Sunday according to God's conviction, that he wanted us to redeem and restore the SPIRITUAL INHERITANCE of Rees Howells. Then the BCW sites were closed down and the college moved to England in July 2009. From that point I felt that God wanted us to redeem and restore the PHYSICAL PROPERTIES too, as part of the inheritance. Thankfully one of these has now been purchased and is being restored by Cornerstone Community Church, Singapore. So "Go back to the beginning" might mean that this journey is to redeem and restore the spiritual inheritance of Rees Howells only. Although I still don't know a lot of things, what I know is that I have to place all on the altar and I have placed BCW sites on the altar. Of course it was so hard for me but obedience is better than sacrifice.


It looks like my 4 years and 4 months intercessory journey with BCW sites has come to an end, although we are still pursuing Rees Howells spiritual inheritance and the picking up the baton of equipping Jews and Gentiles for the last harvest fields. But we are pursuing in redeeming his spiritual inheritance through the Forge vision.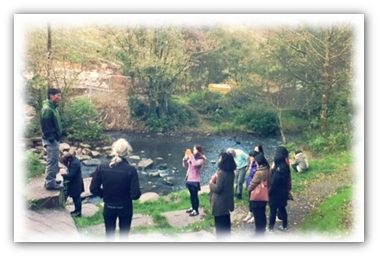 [ Unfinished Race with Rees Howells ]
Rees Howells purchased a fourth property, which is called Penllergaer, for Jewish children. He planned to bring at least 1000 Jewish children from Europe to the UK but he managed to bring only 12 children because Second World War began. On Friday 21st September, a Korean lady and Mathew Toller, a Messianic Jewish Rabbi wanted to visit the BCW sites. Three of us went and walked on Glenderwen, Derwen Fawr, Sketty Isaf and Penllergaer. As we got to Penllergaer waterfall, Mathew asked me about "The Forge" vision, which is raising up spiritual blacksmiths through setting up a centre for worship, intercession, mission and to raise up the next generation and to work for Jewish people at BCW sites.

At that point Mathew told me that Jewish people need to come to 'The Forge' to be equipped as missionaries and should go out to the nations of the world again. I really felt and prayed that is what Rees Howells left and we need to pick up. The Jews who will come might not be from Israel but from the USA and Europe, etc. It is very interesting because we didn't plan to go there at all on that day and the Jewish connection reopened up in our prayers in that place where Rees Howells prayed and planned.

When I was in Israel in October 2012, God spoke to me again about Jewish missionary training in Wales. On 7th October, when I woke up at about 6 am, I felt God wanted me to go up to the Temple Mount. When I was in a queue and also on the Temple Mount, God spoke to me again about the Jewish missionary training. I came down to the Western Wall. As I touched the wall, he spoke to me again. So I told God, "I don't know what to do and how to do it although you are saying to me." Then he told me, "I have called you because you don't know and you cannot do it with your own ability." I wept!