Newsletters
Unlimited to Limited

(The Forge Newsletter_01 & 02_2019)
And the Lord God commanded the man, saying, "You may surely eat of every tree of the garden, but of the tree of the knowledge of good and evil you shall not eat, for in the day that you eat of it you shall surely die." (Genesis 2:17)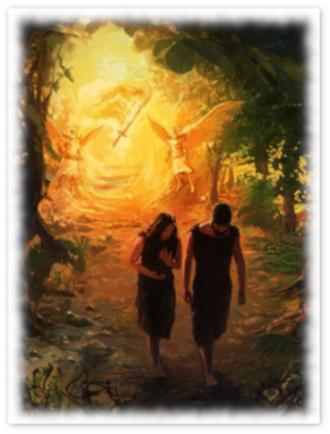 1. God sets limit from the beginning
God sets a limit from the beginning in the garden of Eden. God made to spring up all kind of trees including two trees in the middle of the garden, but he set a limit for the man and the woman; that they would die if they ate the fruit of the knowledge of good and evil.


2. God sets limits because he loves us
God loves us boundlessly, that's why he sets limits instead of allowing us everything limitlessly. If parents don't set boundaries, instead they leave their children alone to do whatever they want, it means that they don't love and care for them. The reason why God set limits for us is not to imprison us but to protect us from unnecessary danger and harm, also he wants us to grow healthily within his protection.


3. If we want to grow soundly, it is necessary to set boundaries
If God really didn't want Adam and Eve to eat, why didn't he put barbed wire around the tree of knowledge? I think God wanted them to grow as responsible beings, trusting God. That's why he didn't put barbed wire around the tree, instead he instructed with his word. However, they despised (ignored) God's word and broke the trust by taking the serpent's words.


4. When we are bound, longing is growing and going deeper
God warned Adam and Eve not to eat the fruit of the tree of knowledge with his words; but to protect the tree of life after he drove them out of the garden, he placed the cherubim and a flaming sword that turned in every direction. Why did God keep the tree of life from them by force, but the tree of knowledge by choice? The tree of life had been freely accessible to Adam and Eve before, but now it was blocked off. The blocking of the tree of life was a direct result of the choice that they made to eat the forbidden fruit. When we are not allowed something, we instinctively want it more. Adam and Eve must have longed for the tree of life, now they could no longer have it.


5. God emptied and limited himself in order to come to us
God knew that human beings could not reach to the tree of life any more, so he emptied himself and came into Mary's womb in order to fulfil the longing of man. Because of love, Jesus came into limited space and time; he risked being stoned, and he walked the narrow way even to the cross, where there was no way out but death.


6. Unlimited looks good now, but it is a way of ruining us
Unlimited life looks good, but it might lead us into madness and it might be a shortcut to ruin us. That's why there is self control in the fruit of the Holy Spirit. Self-control helps us not to do limitlessly although we want to do things limitlessly such as eating, drinking, sleeping, watching, reading, playing etc.. If we don't limit ourselves and don't use self-control, the unlimited things will destroy us and our (relationship) society too.


7. Limited life is difficult and uncomfortable, but it helps us to grow and go further
I pay £6 per month and I can use 300 minutes call, 1000 texts, and 250M data, but my wife pays £9.90 per month and she can use unlimited calls, unlimited texts, and 250M. Therefore I normally switch off data and I only switch on when I use internet, also I often check my data usage. Unlimited call and unlimited data might give us convenience and safety but it may cause us to be dull; talking on the phone long time without thinking.
If we are not limited and self-controlled, we cannot go far, we run down, and get ruined. The bullet can go so far because it is limited in the barrel. Limited life is difficult and uncomfortable at the start, but it helps us to grow and go further.
Jesus was confined for 38 weeks in Mary's womb and he served Mary's family for 30 years. Also he limited himself for 40 days without eating food and drinking water. His life was limited by living with his disciples 24/7 for 3 years. In the end he discipled 11 people and sent them to the ends of the earth. John the Baptist limited himself to eating locusts and honey in the wilderness in order to prepare the way of the Lord's coming.
Do I want to prepare myself with limited life-style for His returning? Or do I want to have unlimited and undisciplined freedom? If we don't limit ourselves according to God's limited plan, we may discern between good and evil like Adam and Eve, but may not discern between life and death. Then we will ruin our eternal destiny with unlimited and undisciplined life-style here on earth.
---

[ Prayer & Intercession ]
1. The European Union is not a government but a spiritual institution

On 6th February, the President of the European Council Donald Tusk said, "There is a special place in hell for those who promoted Brexit without a plan of how to do it." If he was sane, he must be very arrogant to look down on the UK government, unless he received super spiritual authority from somewhere.
The Hebrews lived in Egypt as slaves for about 400 years but in the end they were born as a nation, Israel. In the Hebrew language, Egypt is 'Mitzraim(מצרים)' and it comes from 'Matzor(מצור)' that meaning is to limit. God used Egypt as a womb for the Hebrews to be born as the nation of Israel. Britain has been limited or restricted in terms of identity, sovereignty and destiny by the European Union for 40 years. But now is the time for Britain to be born again.
It is important to come out of Egypt but entering the promised land is more important. About 2 million people came out of Egypt but only Joshua and Caleb managed to enter the land trusting in God. Likewise, it is important for the UK to leave the EU but it is much more important for the UK to take the Good News to the world, trusting God only, to fulfil God's eternal purposes. After Brexit some British people will want to go back to the EU, like the Israelites who wanted to go back to Egypt for food. These kind of people will not enter the promised land of fulfilling God's purposes. They will be left wandering and perish in the wilderness.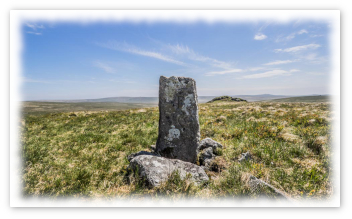 2. God set boundaries in order to seek and find God
National borders are so important because God set the boundaries from the beginning, so that people may recognise their limits and to seek and find God. (Acts17:26-27) However, people want to be like God to be praised, so they break and remove the boundaries or set new boundaries. The European Union has removed the boundaries of 28 countries in exchange for convenience and economic benefit. At the same time they have taken away those countries' sovereignty, identity and destiny. The European Court has a higher authority than the individual European countries, and can overrule an individual country and impose EU laws.
God says, "Do not move the ancient boundary stone that your fathers have set." (Proverbs 22:28) But we have been boldly moving the boundary stones, overtly or covertly, for economic, military or political reasons. We have been trying to deny God or remove God through moving the ancient boundary stones.
3. Now Israel has wrong boundaries
God called Abram and asked him to look over the land of Canaan, northward and southward and eastward and westward from the place where he was standing. All the land that he saw, God would give to him and to his offspring forever.(Genesis 13:14-15) Also God called Joshua and assured him that every place that the sole of his foot would tread upon had been given to him, just as he promised to Moses. (Joshua 1:3) However, Britain and other Western countries separated, removed or changed the boundaries of Israel for their benefits. Therefore current Israel has wrong boundaries, so there are ceaseless conflicts in the area. If we do not have God's boundary or go beyond his boundary, there is always conflict or crisis. God set boundarys or limits in order to seek and find him, but people try to remove or change the boundary or limit in order to deny or rebel against God.
---

[ News Update ]
1. Trip to Kenya and Kyrgyzstan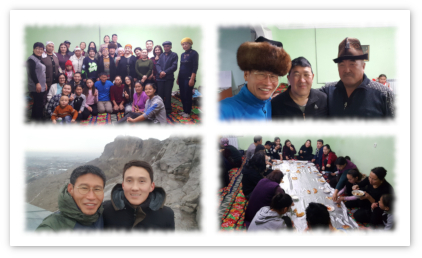 My father-in-law invited our family to Kenya to celebrate his 70th birthday and Christmas in Africa. My brothers-in-law and nephew came from New Zealand and USA. We had a great time together. When I came back from Kenya, I took another flight from Heathrow airport to go to Osh in Kyrgyzstan. Twenty years ago, I visited there for the first time and I have been several times after that, but this was the first time to visit there alone to assist local Christian leader's training. We started each day at 7am with Bible meditation and finished 9pm or 10pm, and one evening it was midnight. They were so hungry for the truth of God. I am really grateful that a Korean missionary, who has been serving local people for 14 years, translated for us to release God's heart. God forged us deeply with his words and we were laughing, crying and confessing in humility and unity for five days.
After the training, I went to climb the Solomon Mountain in the middle of city with a Kyrgyz brother. I shared with him about the prayers that we prayed for Osh and people in Osh twenty years ago. Then the brother thanked me and he said he is the fruit of our prayers. I never thought about how our 20 years old prayers might be answered. Also God provided my financial needs more than what I needed through the missionary and the poor local believers. And God even treated me to a business class seat although I had booked economy between Osh and Moscow.
2. The nation that worships and prays to God will never be destroyed
Israel was completely decimated by the Romans AD 70 and people were killed or scattered for two thousand years, although it was a powerful nation during the time of King David and Solomon. However, the nation of Israel was re-established on the ancient land. The nation that worships and prays to God will never be ultimately destroyed, although it may seem to be destroyed for the time being. In the end, representatives of every nation, every tribe, every people and every tongue will worship the Lamb of God and before the throne of God.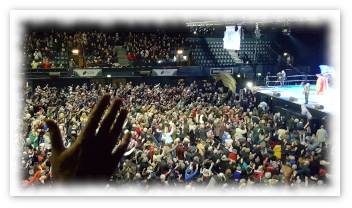 3. A day of fasting and prayer for Britain
On 26th January, about two thousand people gathered in London Wembley to pray for the UK. Individuals gathered from across denominations, organisations, and nationalities. We declared God's sovereignty, the redeeming of British sovereignty, identity, and destiny. I have never seen the British people's passion in prayer like this. It may because they are in political mess and confusion.
I and a friend of mine, Bongo Clive, went to the meeting place two hours before the meeting started, and prayed and walked around the whole block for one hour 40 minutes. Interestingly, we heard and saw the things at the meeting that we had already prayed while we were walking outside.
Even now we cannot perceive the Britain's future. That's why we have to seek God to ask his help with humble hearts. It is wrong to put our hope in Europe or Brexit itself. Our hope is in God only. Unless the LORD builds the house, those who build it labor in vain. Unless the LORD watches over the city, the watchman stays awake in vain. (Psalm 127:1-2)
At that time his voice shook the earth, but now he has promised, "Yet once more I will shake not only the earth but also the heavens." (Hebrews 12:26)
4. Art in His Kingdom

Every Thursday morning at the Forge house we are practicing arts in His Kingdom with a couple of local friends while we are meditating on our daily Bible verse. Although it's still experimental stages, excitingly God has been speaking and touching us in various ways.
"Art in His kingdom" is a wonderful time. I take a step out of day to day chaos and step into a time of meditation, draw what God has given me from the Bible verse, with gentle chat and worship. What happens inside me is a peace and a growing and sharing with each other. It's been a real blessing to dig a little deeper with Our God in His Word, and in fellowship with each other. The time I put in is little, a couple of hours. What I reap is priceless. (Elaine J.)
"Art in His Kingdom" is a place of worship, a place of creativity, a place where God draws out what He has put within us, a place of sharing, a place of fellowship… a little piece of heaven on earth. (Julie E.)
"Art in His Kingdom" is a wonderful opportunity to explore and discover what Father is saying to me through His word. It is an environment of worship, that allows me to express what He is saying through my drawings and paintings. The session provides an opportunity for us to encourage one another as we share our creativity and thoughts afterwards. (Bongo C. E.)
5. Returning to Wales
At the first Forge School, a young Korean lady applied and stayed at the Forge house for three years. Last year she got married, now she is pregnant, and came back to Wales on 16th February to participate the coming Forge School. Also four years ago another young Korean lady came to Wales and stayed at the Forge house for two years. Two years ago she got married and is living in USA. She and her husband are coming to Wales to participate the coming Forge School. We don't know yet why God is bringing these ladies back here at this time and are excited to see what he will do and say to us in this next Forge school.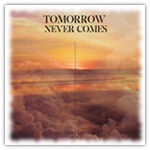 6. Qday's Music Album: Tomorrow Never Comes!
For the last three and half years, Qday has been praying and working on his first music album, which is now in the final stage of designing the album jacket. I really thank God and people who have been praying and helping. If you want to listen and watch a few songs on You Tube;
5. Enough
3. The Only Way (with English subtitles)
2. The Only Way
---
The Forge School of Faith
- Date : 30th March - 13th April 2019 (Wales) / 17th April - 1st May (Forge Trip)
- Cost : £300 (Wales, excluding airfare) / £450 (Forge Trip, excluding airfare)
- Language : English Only (No translation service)
- Contacts : This e-mail address is being protected from spambots. You need JavaScript enabled to view it. / (+44) 7870 653157
Celebration for the Nations 2019
- Dates : 27th February - 1st March 2019
- Venue : Seoul Isu Holiness Church (83-1 DongJak-dong, DongJak-gu, Seoul)
- Contacts : Revival Korea(02-824-3330), www.facebook.com/celebrationkor/?ref=py_c
Springs Gathering
A young couple received a vision to gather worshippers together in Galilee. So last summer Jews and Gentiles gathered in Tiberius and Mt Carmel for four days to worship Jesus the Messiah. This year Jews and Gentiles are gathering again in Galilee during the Passover and will worship the Passover Lamb of God.
- Dates : 22nd - 25th April 2019
- Venues : Morning Star Fellowship (Galilee, Israel) & Kehilat HaCarmel (Mount Carmel)
- Contacts : This e-mail address is being protected from spambots. You need JavaScript enabled to view it. / www.facebook.com/springsgathering/ (Joseph LEE)
Three Days Prayer and Fast for Israel & UK
- Date : 24th - 26th June 2019

- Venue : Kings Park Centre, King's Park Road, Northampton, NN3 6LL
- Contacts : 07919 620566 (Dr Anne Rowntree) / Email: This e-mail address is being protected from spambots. You need JavaScript enabled to view it.