Newsletters
Volume for Vacuum
(The Forge Newsletter_06 & 07_2018)
But whatever gain I had, I counted as loss for the sake of Christ. Indeed, I count everything as loss because of the surpassing worth of knowing Christ Jesus my Lord. For his sake I have suffered the loss of all things and count them as rubbish, in order that I may gain Christ. (Philippians 3:7-8)
After I came back from South Korea, I tried to clean our house with the vacuum cleaner. Although the sound was loud, it didn't suck the dust because it was filled with dust and dirt, but nobody had emptied it.

1. It doesn't work if it's not emptied
When God created man, he created enough volume inside and he breathed in with his breath, so that the man became a living soul and creative. If we are not emptied or vacuumed, we cannot not be creative and active although we may make a loud noise just like a filled vacuum cleaner.
2. Vacuum produces amazing power
We think that there is no power if we empty ourselves, lower ourselves and don't have things. The fact, however, is opposite. If we can create vacuum, the vacuum manifests sucking power that sucks everything; the same dynamic, lifting power that lifts an aeroplane in the air.
3. God empties us but enemy fills us up
Our enemy tries to fill us up with subtle lies, rubbish and even useful things. So our lives are busy and powerless in order to keep the things. That is why the Apostle Paul said that he would count everything as loss and count it as rubbish, in order that he may gain Christ. (Philippians 3:7-8)
4. It is difficult to fill the space, but emptying is even more difficult
An airplane's engines consume fuel and move it forward at high speed. This pushes the air over the wings and the air is forced downwards, creating a lower air pressure above the wings, similar to a vacuum. This generates a dynamic, upward force called "lift" which is greater than the airplane's weight and pushes it into the air. A vacuum cleaner needs a lot of electric power to run the motor in order to create vacuum. Likewise, the Omnipresent Jesus' death created a huge vacuum and broke the tombs with an earthquake. I, too, can create vacuum and shaking if I die.
5. What we have and what we know may help God or hinder God
What we don't have can cause problems, but what we do have can cause even bigger problems. So, when we empty ourselves we cannot do anything and are powerless, but we can receive and release the power that comes from above and start a new journey.
6. I have to pull myself out for God and for others
We think God needs us to do his jobs, so we are busy equipping and decorating ourselves instead of empting ourselves of what we have to receive the life of God and the power of God. Often I hinder God and block his works with what I have. So, if I remove myself, God will work more easily.
7. There is no limit when we are empty
The world tells us to train more, earn more and posses more, but God tells us to bow lower, to be broken more and to empty ourselves of everything. The capacity and power are very different between those who are filled and those who are vacuumed. He who is filled with this world resources can work with what he has, but he who is emptied can work with the limitless resources of God.
[ Prayer & Intercession ]
1. It is more difficult to unlearn and to empty than to learn and fill

We started making more space by decluttering and giving things away while we were redecorating our house last February and March. Even though it is difficult to unlearn and declutter, it creates more space to invite and embrace more people including those who are difficult to receive.
Until last year, Donald Trump and Kim Jung Un attacked each other with fiery words. But they shook hands in Singapore on 12th June 2018 and started talking of the future. Also, last week the Secretary of US, Mike Pompeos visited North Korea to discuss follow up.
History doesn't run as we expect and it is not controlled by one or two dictators or strong leaders. Eras change and people disappear but history has been being evolved with challenge and response as Arnold Toynbee said. The era of the Cold War has gone but still there is a power game going on in Korean peninsula between the US, China and Russia. However, we need to believe that all of history is under the hands of God.
Russia and China don't want a peaceful reunification in the Korean peninsula because they don't want to lose their platform towards the far east Pacific Ocean. The US is talking to North Korea to keep their own position and benefit. But unless they give up their Ju-Che ideology, North Korea will not give up developing nuclear weapons and the ICBM (Inter-Continental Ballistic Missile). They will carry on secretly as Iran has been doing.
However, Jesus the King of Kings emptied himself and came down to the earth, and entered Mary's womb. That's why his Kingdom is advancing powerfully, invading invincibly the kingdom of darkness and setting people free.
2. Conflict between Israel and Gaza

At the time of the US embassy's relocation, the Palestinians in Gaza gathered at the board fence to try to infiltrate Israel. Israeli soldiers shot them, but the UN and international media criticise Israel only. Hamas keeps firing missiles and sending kites to burn Israeli harvest fields, so that Israel may be irritated to attack Gaza again. Hamas intends to isolate Israel in the International society.
I am sorry that the Philistines have been shot by Israeli soldiers but the fundamental responsibility is on Hamas who encourage people to demonstrate and to try to infiltrate Israeli territory. If we don't find the answers in the Bible, we may be deceived by Satan's lies that are disguised with compassion and human rights.
The current Israeli government is not the government of the Kingdom of God and they cannot represent our God. But we can see the God who made the everlasting covenant with Abraham and has kept it faithfully. The nation of Israel was wiped off the earth for two thousand years but in 1948 the nation was reborn and people have been returning from the South, North, East and West to the promised land of Canaan.
The reason why God has chosen Israel is not because they were strong and holy but they were weak and ugly, so that God may present himself easily as the holy and almighty one. Therefore, Israel should not be proud of themselves and they need to understand their calling to serve the Gentiles as a priest nation. Also, we Gentiles should see the grace of God and faithfulness of God through Israel, otherwise we will be deceived by Satan's lies who uses the UN and mass media.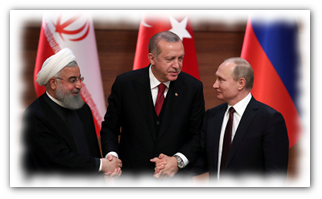 3. Russia, China, Iran, and Turkey are excising their power
China and Russia have been expanding their military presence and Iran has been increasing its military presence in the Middle East. Also, Turkish president Erdgan has been empowered himself through the recent election and dreams to rebuild the Ottoman Empire as Putin has been restoring Russia after national bankruptcy.
Iran had Persia's glory, the regime has been investing a lot of food, money and weaponry to influence Syria, Lebanon and Yemen and building their platform in the Middle East. But the Khomeini government doesn't look after their own people, so there are many serious demonstrations happening in Iran.
4. The Darkest Hour for Brexit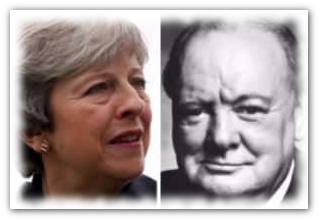 Even though Britain is experiencing some birth-pains before the real deal of Brexit, she has been moving forward step by step to redefine her identity and destiny. On Sunday 8th July, Brexit minister David Davies resigned and the next day foreign minister Boris Johnson resigned. I was trembling and started praying for the Prime Minister Theresa May. My wife remembered a scene from the film "Darkest Hour," in which British Prime Minister Winston Churchill had to lead the country through the early years of World War 2.
His generation had lived through the carnage and sacrifice of World War 1 and were desperate to save the country from war. Pressure mounted from colleagues on all sides to seek a peace deal with Hitler. Churchill seemed to lose his usual belligerent confidence and to wonder if a compromise for peace should be sought. It looked as if he would give way but, at the final, crucial moment, two things crystallized Firstly the King George V, came to pledge his support to fight Hitler to the end. Second, Churchill, took his first ride on the Underground to the Houses of Parliament and talked to the ordinary people. "Should we make peace with Hitler?" he asked. "Never!" they all declared, fiercely. "We will never give in. We will fight to the death for our freedom!" This gave him the resolve he needed to rally MPs on all sides in a speech that has become enduringly famous, and lead the country into a long and gruelling fight to victory.
I pray that Theresa May might clearly see her way forward, that she would find support and strength although many oppose and seek to change her course, and that she would be able to lead Britain the way she must go in our day.
[ News Update ]
1. Visiting Korea
Qday and Noah visited Korea for 5 weeks to officiate TK & JS's wedding, Noah's Korean school experience and visiting family and friends. This time Noah started using chopsticks willingly and the first time it took a long time to finish his food but he is good at it now. TK & JS's wedding was beautiful and joyful.

2. JS & JM started laying for a farming community
One day I visited JS & JM who used to live in Wales. Now he has bought land and a house to start farming and laying the foundation of community living. They got married last September. She teaches English language in a Christian secondary school. They have a lovely, simple life. I have been encouraged and challenged by their faith walk.

3. Travelling to USA
Our family are travelling to the USA from 18th July to 6th August. I was invited to speak in a youth camp but it was cancelled, then a couple of friends invited our family. We are visiting New Jersey, LA and Maryland. We are looking forward to meeting people and seeing places. I pray that God would lead us to the right people to meet and to be connected, also it would be great time of holiday for Noah, Yohan and Bridget.

4. Springs Gathering in Galilee

I am participating to a worship celebration, Springs Gathering, in Galilee and Mt Carmel in Israel from 27th to 30th August. God has given a vision to a Korean British couple SY & HJ to keep worshiping in Galilee. I feel I should stand with them. I and my wife are praying that the right people would come and worship the Lord with one heart.
- Contacts: (+44) 7915 049652 / This e-mail address is being protected from spambots. You need JavaScript enabled to view it. (Joseph LEE)
- Venue 1: 27th - 29th Aug (Worshiping in Galilee, 3pm – 9pm)
- Venue 2: 30th Aug (Worshiping at Mt Carmel, 10am – 9pm)
Forge School of Faith -12
- Date : 13th - 27th October 2018 (Wales)
- Cost : £300 (Wales : excluding transport),
- Language: English Only
Step Out of your normal routine...
Connect more deeply with God's heart...
Be shaped to fulfil your purpose in God.
This introductory School is a 2-week residential course held at our community house in Llanelli. The aim is to have an introduction to our principles of community life of worship and prayer, as well as teaching on listening to God, stepping out in faith and living in grace. We also cover an introduction to the biblical understanding of Israel. There will be a small number of places available for a 3-month stay in our community following the school, for those interested in joining us for longer. You can apply for this when applying for the school. We usually run a 2-week Forge Journey after the School, and details of this will be available soon. Applicants will need to fill in an application form, so please contact us and we will send you one.
3 Day Fast & Prayer for Israel & UK

Dates : 19th - 21st November 2018

Venue : BRUNEL MANOR, Teignmouth Road, Torquay TQ1 4SF

Contacts: 07919 620566 (Dr Anne Rowntree) / Email: This e-mail address is being protected from spambots. You need JavaScript enabled to view it.

Shalom Shalom!

Qday LEE

on be half of the Forge family
This e-mail address is being protected from spambots. You need JavaScript enabled to view it.

(+44) 7870 653157