Newsletters
Famine to Famine
(The Forge Newsletter_03_2018)

In the days when the judges ruled there was a famine in the land, and a man of Bethlehem in Judah went to sojourn in the country of Moab, he and his wife and his two sons. (Ruth 1:1)

Growing up in abundance; growing down in famine
Although famine seems to wither and kill everything, there is something growing in the famine. Abundance helps stalks to grow and to yield fruits, whereas famine causes root to grow deeper and to find hidden treasures in the darkness.
1. There is fruit even in the famine
Naomi's family moved to Moab to escape from food famine, but she faced a miserable family famine because her husband and two sons died. However, Naomi obtained Ruth, although she faced a famine in the land where she went to escape from the previous famine.
2. Serving comes out as famine meets famine
After the death of her husband, Ruth went to Bethlehem and she met Boaz. His mother was the prostitute Rahab from Jerico, so he was probably discriminated against and lived unmarried. When "famine" Ruth met "famine" Boaz, both of their withered lives revived and Obed(עובד = serving) was born, whose descendants are David and Jesus.
3. God knows where we should be wrecked
The ship that Paul the prisoner was on board hit the storm Euroclydon and they were completely lost from their destination after fourteen days storm in the sea. Yet God exactly directed the ship with the wind and waves to the island where the ship was supposed to be grounded.
4. Serious storm makes us nothing
Fourteen days later, although the ship owner, captain and sailors had boastfully ignored the prisoner Paul, they became nothing in the storm and darkness. But now the centurion and everyone began to listen to Paul when he stood and spoke about message from God.
5. God sends the storm and famine for us
The reason why God sent the storm and darkness was to give Paul heavenly authority and to make Paul like a god. The reason why God sent the food famine to Bethlehem and the family famine to Moab is to find the hidden treasure Ruth and to bring her to Bethlehem.
6. The storm and famine expose our lowest level
Although we obey and follow his words, we cannot see anything and cannot do anything because of the famine and storm. But God exposes our bottom lines in the storm and famine, also he moulds us to what he wants us to be from nothing and leads us to the place where he wants us to be.
7. Although we may lose all at the end of the storm and famine, we meet the one who is everything
Even though the famine drives us to the place where we don't want to go or takes away the things that we have, God wants to give us what he has prepared for us and to introduce the person whom he has prepared. Although we might lose everything and we may be nothing when we reach the end of the storm and famine, we will certainly meet the Everlasting and Everything, and will be like Him.
[ Update News & Prayers ]

1. Famine and storm from my mistake
When I visited Israel in January 2009, God released the revelation of Israel and sabbath rest and my unusual journey started regarding the spiritual inheritance of Rees Howells. Although we didn't purchase the Bible College property, we started the first Forge School of Faith in December 2012 and we have now run our 11th school. These had all been a great blessing, but the last school in June and July, 2017 was disastrous because of my mistakes. So we cancelled the 12th school and instead seven leaders gathered for one week in Wales.
We looked back over the last six years and discussed several spiritual and practical issues, and prayed. We realised that our unusual journey of faith had been diluted or diverted from the first calling. So we have decided to stop the things that weren't his calling and to return to go back to the beginning.
Therefore we have stopped receiving visitors or guests for the time being and emptied our house for five days in the beginning of February as a prophetic action. Now we are preparing a new chapter by redecorating the house. We don't need the faith of God in repetitive usual normal life but we need the faith and we use the faith when we face unusual situations or impossible circumstances.
2. Seung-Ae has won the battle for UK spouse visa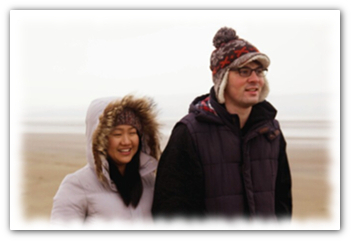 Seung-Ae came to work with us on a volunteer visa for 2 years. After she married Owen they applied for a spouse visa. The two of them form part of the leadership of the Forge community. Their first application was refused because their income was well below the Government's minimum requirement. However, she fasted three days like Esther and appealed because they felt it was right to pursue the lifestyle God has called them to – living by faith – in the place he has called them.
After a long wait and presenting many testimonials and letters of support, they went to court. God provided an excellent lawyer, and the Judge agreed with his presentation: that Seung-Ae should be an exception to the requirement because she and Owen are such a blessing to the local community here and are self-supporting. The battle was not quite won – the Home Office started an appeal, but the court ruling was upheld and finally, 2 weeks ago at the Purim, Seung-Ae received her spouse visa. After 2 years of uncertainty and prayer, we give glory and thanks to God. Truly it is He who makes the final decisions!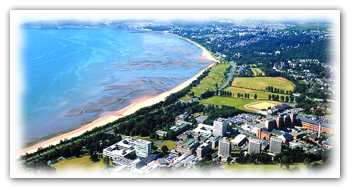 3. Earthquake in Swansea in Wales
I never had an earthquake experience in Wales since I came to the UK in January 1999, but a 4.2 earthquake hit Swansea on 17th February 2018. One of our household told me that she felt the house was shaken. It's really unusual in Wales. Is God saying something to us? Is God waking us up? Or is the earth groaning? Is something significant happening in Swansea?

4. Faith begins from decluttering and humbling
If we don't have the faith of God, we are busy doing something to get more and to earn more. But if we trust in God, we gladly give up, give away and humble ourselves. While we are redecorating the house, we have been decluttering – getting rid of things that we had, including a lot of our two sons' toys. We think that we can live new life if we add or gather new things, but we cannot begin new life unless we get rid of old ones because the new may become contaminated by the old. So if we really want to start new life, we have to remove the old ones to create spaces to receive new life.

5. Olympic Games used for politicising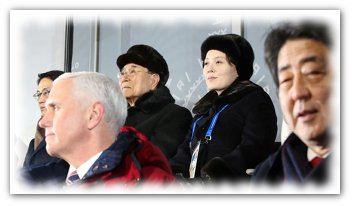 World War two started when Hitler invaded Poland after the Berlin Olympics in 1936. Putin invaded Georgia after the Beijing Olympics in 2008 and invaded Ukraine after the Sochi Winter Olympics in 2014. It looks like Hitler and Putin prepared their invasions while the world was busy preparing the Olympic games and watching the games.

This Winter Olympic games was very interesting because the American vice president Mike Pence and Kim Jung-Eun's sister, who is the 2nd most powerful person in North Korea, both attended. This gave an appearance of top level political harmony. Also South Korea and North Korea made one ice hockey team and two Koreas marched together. This apparent unity only disguises the deep hostility of these nations.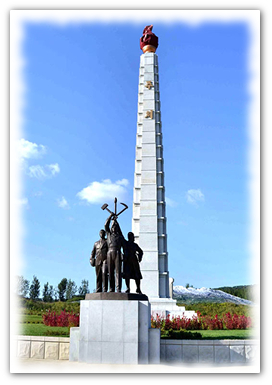 6. Would North Korea give up nuclear weapon?
North Korea will never give up their nuclear weapon, regardless of their smiles and sunshines, because their Juche ideology is based on man power and their own power. If they did give up their nuclear power, it would mean the regime had fallen. Nevertheless I do believe that God certainly will bring about reunification before long but not through political negotiations. That's why we need to pray and help North Korean civilians in every way possible.
The number of North Korean escapees in South Korea is about 30,000. I believe that God has sent them to South Korea, so that South Koreans may start to prepare for reunification. If South Koreans don't learn how to be one with those 30,000, the division will be deeper and wider even if the two Koreas become one.
---
The Forge School of Faith
God has called us to restore the ruined spiritual forges and to raise up spiritual blacksmiths according to the legacy Rees Howells left. This time we are holding a seminar style Forge School at the Forge House differently from previous schools.

- Date : 7th -21st April (Wales)
- Language: English Only

* If you are interested in it, please contact us by email or phone.
+44 (0)1554 755535
+44 (0)7870 653157
This e-mail address is being protected from spambots. You need JavaScript enabled to view it.
3 Day Prayer & Fast for Israel and UK
Dates : 25th - 27th June 2018
Venue : BRUNEL MANOR, Teignmouth Road, Torquay TQ1 4SF
Contacts: 07919 620566 (Dr Anne Rowntree) / Email: This e-mail address is being protected from spambots. You need JavaScript enabled to view it.
Shalom Love!
Qday LEE
on be half of the Forge family