Newsletters
Wearing to Tearing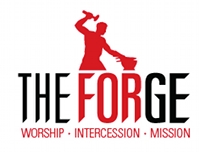 (The Forge Newsletter_November & December_2016)
Then Saul dressed David in his own tunic. He put a coat of armour on him and a bronze helmet on his head. David fastened on his sword over the tunic and tried walking around, because he was not used to them. "I cannot go in these," he said to Saul, "because I am not used to them." So he took them off. (1 Samuel 17:38-39)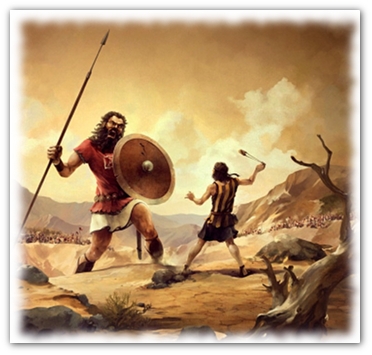 1. Lots of our preparation can ruin God's work
God cannot use those who think they are ready and they can do it by themselves, but God calls those who feel they cannot do it by themselves and he fulfils his will with them. When God called Jeremiah as a prophet to the nations, he told God that he didn't know how to speak and he was only a child because he probably felt he was weak, unprepared and unable to do the work of God. In other words, he felt he wan't good enough and wasn't fit for the work of God. However, we often prepare more than what he says, so we spoil his will and ruin his work although we might fulfil our own will and our own purpose.
We spend time and waste our life to equip ourselves with king Saul's amour and weapons according to many people's advice. If we are "fortunate" enough to be able to equip ourselves with the king Saul's amour and weapons, we not only cannot walk around freely but also cannot fight against Goliath, instead we will be decapitated with a swing of his javelin.


2. We have to take off other people's amours and put down their weapons
Therefore we have to take off other's amours and put down other's weapons. Instead we have to practice our own slings and our own weapons to fight against wolves, bears and lions that appear around us everyday before confronting our Goliath. Because God has given enough strength and strategy to trust and rest in God as David practiced it while he was tending his father's sheep in the wilderness.


3. We have to deal with not only the external Goliath but also our internal Goliath
But we have to remember that there is another Goliath: myself, in me and we have to deal with the inner Goliath before serving others as king. King Saul didn't practice to get rid of not only the external Goliath but also his internal Goliath. That's why he couldn't deal with his internal Goliath and was destroyed by his internal Goliath although his external Goliath was destroyed by David.


4. Equipping more may hinder God and kill us
We are learning and equipping way too much to live it out, so we use the things that we learn and equip as accessories in our life or give up living it out. Also if we have too much of knowledge or equipments, they may hinder God's way.
That's why Jesus may have called his disciples as the uneducated and untrained. Even though the Apostle Paul was well educated and well trained, he counted it as rubbish. Also Moses was well trained in Pharaoh's Palace and powerful in speech and in action, but God called him to deliver the Israelites when he was unable to speak in the wilderness.
Therefore we have to take off, tear off and give up our accessories, someone else's armour, self-defence and unnecessary preparations. If we put on more, learn more, and equip more without living it out, these things will hold on to our heels, stop our moving and slice (decapitate) our heads in the end.


5. We have to take off the things that are not ours although it upsets people around
David took off king Saul's armour and his weapon even though it might have upset the king. We have to take off and tear off man-made amour and helmet, title and diploma, gowns and preparations in order to move forward although we may upset people around. Because God calls those who are not ready and unprepared in the sight of man, then he accomplishes his perfect will.
[ News Update ]
1. My life suppose to be for others / Painful journey in 2016 / Unity in humility
I have been in death experience since October 2015 but thankfully I have been experiencing a new life through the death. It is not easy to tear my name, my position, and myself, but it is possible and not difficult if I die, because the dead has no word at all.
We are called to be one in Christ, but often I find that we are not one but fragmented. Because we don't tear ourselves off but we treasure ourselves. We can take off some external things but not internal self, so we tear others and break others.
God wants us to be one as the Body of Christ and the Family of God. So Jesus prayed for our oneness two thousand years ago. Now I have started practicing to take off uncomfortable armours and tear down beautiful accessories to turn back to the first love and simple faith of God.
2. Hong & Hyesun who have given up everything and coming to Wales
Heysun went to Iran by faith with a small team of people when her new married husband was in the bootcamp training as a Korean airforce officer. But she was swayed by her comfortable life not to follow God's calling since they bought a brand new double-door fridge. However, Hong was discharged at the end of the last November from the military service and they have packed everything. Now they are leaving for Wales on 13thJanuary with their two young daughters.
If we leave behind something, or take a lot with us, we may look back or turn back in the end. The Israelites came out from Egypt but Egypt was in them, so they always wanted to return to Egypt. But they couldn't go back to Egypt or enter Canaan, and they finished their lives in the wilderness.
I am challenged and encouraged by Hong and Hyesun because they haven't given up but they have kept pursuing the purpose of God by faith, even though his father has been opposing their plan. I respect them because they have torn their hearts and started this journey of faith. I expect that God will do amazing things in them and through them.
3. Three weeks Journey of faith with two sons in Spain and Portugal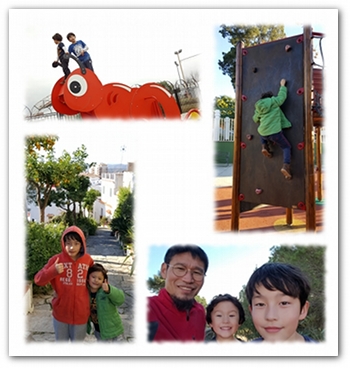 Unexpectedly people came from Germany, France, Japan, and Korea as God had told me. People were set free from the bondage of religion by the truth of God and the grace of God, also tasted the rest of God through two weeks in Wales. Now we are learning about trusting in God and seeing the release of the purpose of God through our journey in Spain, Gibraltar and Portugal.
We are eight people including Noah and Yohan. Our budget was considerably lower than our expenses because this trip was for two weeks but it has been extended because of Christmas and cheaper flight schedule. It was hard for a few days but God has provided miraculously and faithfully what we need.
Also God has appointed Bridget as a team leader to pray and bless Spain, Gibraltar and Portugal. She has been looking after two children for ten years and had no opportunity of leading team. So I felt I have to look after two sons for three weeks so that Bridget may lead the team. It's not easy but I have been pioneering with grateful heart in spending time with my two boys with bathing, feeding, playing, reading the Bible, etc..
4. Yodit is rooting down by faith in Uganda
Last October, I was asked by Yodit the first time for finances. It was miracle because she never asked for finances even though she had a really difficult time. Last April, I had a similar experience. I never asked for money directly for 50 years but I asked for our family airfare. It was a sign of collapsing of my inner subtle spiritual pride.
Now Yodit found a property to start her coffee shop and applied for her long-term visa and today she got it. As I saw, the biggest Goliath is not the external finances but the internal Goliath, self pride. Please pray for her and stand with her.
[ Prayer & Intercession ]
1. Unexpected and unprecedented happenings are happening in the world
We have seen very interesting incidents this year 2016; the Brexit referendum and the American presidential election. Nobody excepted these kind of results although many people prayed and even voted for it. The media and people's predictions were ruined by the result of them. Did God intervene? Or is it by chance?
In a couple of weeks time there will be the inauguration of Mr Trump on 20th January 2017. In this crucial time, American president Barak Obama criticised that Russia interfered with the American presidential election using internet hacking. He actually shows not only his inability and negligence but also American intelligence community's inability and negligence. Also he undermined Hillary Clinton, saying that he would have been definitely elected, if he had run the third term election instead of Hillary Clinton.
If Obama truly knew the Russian's were hacking, why didn't he and the American intelligence community deal with it? Why wouldn't they talk about the lies and hypocrisy of Hillary and the Democratic Party through the deleted thousands of emails? Why don't they talk about the real reasons why she lost her election? It shows who they are and what their integrity is.
Please pray for this transitional time in the United Kingdom and the United States. I sense that God has given a crucial opportunity to the UK and the US to find HIM and to pursue His eternal purposes.
2. Unbelievable and unprecedented UN Security Council adopted the Resolution 2334

On 23rdDecember 2016, UN Security Council voted on and adopted a Resolution about the situation in the Middle East, including the Palestinian question. In this vote, America abstained and the other 14 countries; Britain, Russia, China, France, Egypt, Senegal, Japan, Uruguay, Ukraine, Venezuela, New Zealand, Malaysia, Spain, Angola; voted for it.
In this Resolution, it states that it is illegal in terms of international law to build settlements in the West Bank, and Israel immediately should stop building settlements in order to restore peace between Israel and Palestine. But the Israeli Prime-Minister and the British Prime-Minister slammed the Barak Obama administration and John Kerry because the Obama administration orchestrated the vote and then abstained in order to cover it up.
After the criticism, American Foreign Secretary John Kerry defended himself and Obama by criticising Israel again as if he were the ambassador of Palestine. However, John Kerry completely ignored that Israel has been trying to build peace between Israel and Palestine; Israel gave back the Sinai Peninsula, Gaza and East Jerusalem after the 6 days war in 1967. Also he didn't mention that the Palestinian Authority encourages and provokes Palestinians to kill Israelis using tens and thousands of missiles, bombs, guns, and knives. French officials welcomed John Kerry's address but the British Prime-Minister Theresa May slammed him, saying that his speech is unbalanced. (If you want read more, click here... or click here...)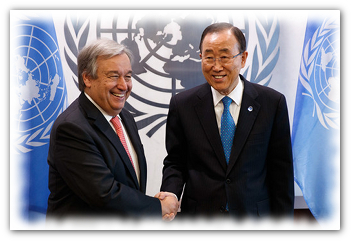 3. New General Secretary of United Nations
Ban Ki-Moon who was UN General Secretary finished his term in December and former Portuguese Prime-Minister and former UNHCR(UN Hunger Crisis Refugee) chairman Antonio Guterres started work as General Secretary in UN. In this historical transitional time, eight of us were in Spain and Portugal.

While we were in Spain and Portugal, a lady texted us with a couple of words "Vasco da Gama (1460s-1524)" that she heard when she was praying for us. We found that he was a prominent explorer and pioneered first time the sea road between Portugal and India. Also he is a hero even now in Portugal.

Once Portugal was a powerful country and pioneered many countries and colonised them, but she has been quiet and overshadowed in modern history. Last year we felt that it is important to pray for Spain and Portugal because it is connected not only for the countries themselves but also Israel too.