Newsletters
Today to Eternity
(The Forge Newsletter_September & October_2016)
And when he saw that, he arose and ran for his life, and went to Beersheba, which belongs to Judah, and left his servant there. But he himself went a day's journey into the wilderness, and came and sat down under a broom tree. And he prayed that he might die, and said, "It is enough! Now, LORD, take my life, for I am no better than my fathers!" (1 Kings 19:3-4)
1. Elijah's first servant had amazing experiences with God
Previously Elijah had a servant who had an amazing experience of God at Mount Carmel. He saw the fire which came down from heaven and consumed not only the sacrifice on the altar but also the twelve stones at the confrontation of the prophets of Baal and Asherah. Also, after the confrontation, he saw the palm-sized cloud arising from the Mediterranean Sea as Elijah was praying; and it became heavy rain.
2. He disappeared eternally because he missed a day's journey into the wilderness
However, Elijah and his servant fled to Beersheba after this dramatic confrontation, since Elijah was told that Jezebel was seeking his life. When Elijah arrived in Beersheba, he left his servant there and he went a day's journey into the wilderness. After this event, the servant disappeared from the Bible although he had had amazing experiences with Elijah, because he missed a day's journey after all the years of journey with Elijah.
3. Elijah told Elisha to stay at Gilgal, Bethel, and Jericho, but he didn't listen
After that, God told Elijah to find Elisha and to anoint him as a prophet in his place. They journeyed together for some years until the last day of Elijah on earth. One day Elijah told Elisha to stay in Gilgal because God called him to go to Bethel, but Elisha told him he wouldn't stay there, and instead followed him to Bethel defiantly. When they arrived in Bethel, the sons of the prophets came out to Elisha and said to him, "Do you know that the LORD will take away your master from over you today?" And he said, "Yes, I know; keep silent!" Then Elijah said to him, "Elisha, stay here, please, for the LORD has sent me on to Jericho." But he said, "As the LORD lives, and as your soul lives, I will not leave you!" When they arrived in Jericho, the sons of the prophets came to Elisha and said to him, "Do you know that the LORD will take away your master from over you today?" So he answered, "Yes, I know; keep silent!" Then Elijah said to him, "Stay here, please, for the LORD has sent me on to the Jordan." But he said, "As the LORD lives, and as your soul lives, I will not leave you!"
4. Elisha didn't listen to Elijah but he followed his heart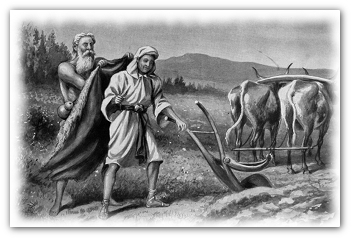 It looks like Elisha didn't listen to Elijah and disobeyed. He was stubborn, wasn't he? But Elisha must have known Elijah's heart and God's plan. So he didn't stay at those places and settle down there as principal of the prophetic schools, but followed Elijah to the end to get a double portion of anointing.
5. It can be hard but possible, if we follow him and focus on him till the end
When Elisha asked Elijah for a double portion of his spirit, he said, "You have asked a hard thing. Nevertheless, if you see me when I am taken from you, it shall be so for you." In the end, Elisha received it because he didn't respond to the sons of the prophets, nor listen to Elijah's word, and wasn't distracted by the horses and chariot of fire that turned up as he was taken up by the whirl wind.
6. Ideal things can be a hinderance in pursuing God's purpose
Elisha knew that Elijah was going to be taken up to heaven, so the chariot and horses of fire are ideal for him. Therefore we normally take off our eyes from Elijah and turn our eyes around to look the chariot and horses instead. Because we all assume he would get on the chariot. In fact, the horses and chariot of fire separated the two of them, which means it was difficult for Elisha to look at Elijah over the chariot and horses because they blocked him. Sometimes God puts a hinderance or disruption before us in order to test us.
And it came to pass, when the LORD was about to take up Elijah into heaven by a whirlwind, that Elijah went with Elisha from Gilgal. (2 Kings 2:1)
7. A day journey leads us to eternal destiny
Elisha followed Elijah defiantly till the end on the last day's journey, even though Elisha was told three times to stay at those places; the sons of the prophets tried to persuade him not to follow; his sight was blocked and he was confused by the horses and chariot. Whereas Elijah's first servant stayed in Beersheba instead of following a day's journey into the wilderness after all the years of his journey with Elijah. Therefore the servant lost his destiny eternally whereas Elisha received a double portion of the anointing and his eternal destiny.
8. Saul waited for seven days but he didn't wait for Samuel
King Saul waited seven days, according to the time set by Samuel. But Samuel did not come to Gilgal; and the people were scattered from him. So he sacrificed the burnt offering and peace offering by himself. So he lost his position and destiny eternally because he didn't wait for Samuel for a couple of hours probably because of the situation and emotion.
And Samuel said to Saul, "You have done foolishly. You have not kept the commandment of the LORD your God, which He commanded you. For now the LORD would have established your kingdom over Israel forever." (1 Samuel 13:13)
[ News Update ]
1. Ten days' fasting at the Black Mountain
While I was in Israel last summer, God impressed me to take 10 days fast on the Black Mountain in Wales. I was a bit reluctant because I don't like fasting, but he confirmed it at the Western Wall. I sensed that God wants to release something but we are not prepared yet to receive it. So he wanted me to prepare for it through fasting.
It was the hardest fast in my life although it was just for ten days. It was a dying experience. He didn't want me to be faint but to die. I was temped to give up fasting a few times, but his grace made me go through till the end. God graciously gave two days no rain during the ten days, so I was able to put up my tent on the first day and to pack up the tent on the last day.
2. There is one trainee at the Forge
Living in a community is not easy but it's worth it, and it's a privilege to meet real person through exposure of real life. God challenges and changes us in community living. One day a missionary friend of mine asked me a question. "How many trainees do you have in your community?" And I answered, "Just one, that's me!" "Because everyone is training me, so I am the only trainee."
3. Hong & Hyesun's family step of faith
We have known each other for a long time since we met them in Wales in 2007. Also Hong and I went to a special freezing cold wintery camping to the Black Mountain in the UK and Hyesun has been to Iran with a small group of Forge people. They have felt that God has been calling them to Wales to serve with us. Hong has been in Korean military service as an officer for two years since they got married. Now he is going to be discharged in December and they are coming in January 2017. It's not an easy decision making for them to come over to Wales without a long term visa and they need to rent a house. Please pray for them and their two small children (Eunha & Jooha).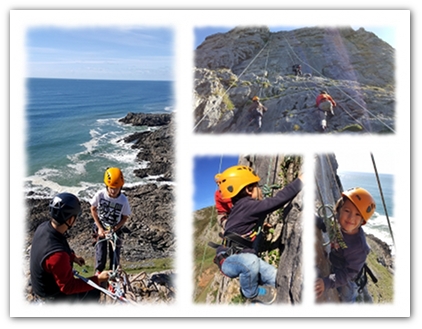 4. Noah & Yohan climbed 20m high steep cliffs (Boiler Slab)
On 27th September I organised a rock climbing activity with a few friends of mine. The weather was fantastic and the scenery was stupendous. Noah is nine years old and Yohan is four years old and both of them climbed fearlessly 20 meters high steep cliffs in Gower. I helped out Yohan three times because the course he chose was very difficult even for adults, and he finished all the way up. Noah climbed and he abseiled too.
5. Stabilizers help us for a while but hinder us later
One day I took Noah and Yohan to ride bicycles. Noah is a confident cyclist but Yohan prefers riding scooter to bicycle. Yohan's bicycle used to have stabilizers and recently I took them off, so that Yohan can ride by himself. Yohan was terrified by riding his bicycle without stabilizers. He didn't want to ride it and screamed while he was riding although I was holding his bicycle.
While I was helping him, I saw myself through him. God really wants me to ride bicycle with freedom without stabilizers. Stabilizers can help my riding for a while but actually it limits my speed and manoeuvring angles. I felt God has removed a couple of my stabilizers from my faith journey, so I didn't know what to do at that time. But he reminded me that he is holding fast behind me.
6. Yodit's stabilizers were removed in Uganda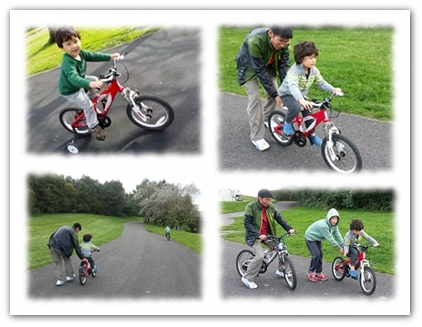 Our Eritrean sister went to Uganda three months ago to set up her own coffee shop. She has already been there twice and met a lovely Ugandan businesswoman who was willing to help her in everything. However, she completely ignored her this time when Yodit arrived in Uganda. It seemed to be deliberate. The property rental price was much higher than she had thought. So she was very discouraged and thinking of moving somewhere else. But one day while she was praying, God told her, "Step out by faith!" So she went to a registry office to register her business. She met a local pastor at the registry office and he helped her, so that she didn't need to pay any extra money; bribe. Now she has her own business certification. The pastor lives in a slum area but is smart, honest and committed to the Lord. God has taken her stabilizers, so that she may rely on God alone with freedom.
7. The Next Forge School in Wales & in Spain & Portugal (?)
We are going to have the Forge School on 1st - 14th December 2016 in Wales and Bridget is leading a team to Spain and Portugal for two weeks after the Forge School in Wales. Last April a Korean pastor who came from USA, encouraged me to explore Spain and it is connected to Israel and Apostle Paul's journey. Paul wanted to go to Spain but he couldn't make it. So there must have a certain reason for him to go to Spain and it might not have been fulfilled. Bridget lived in Spain as a missionary for six years, so it is exciting for her. We don't know yet why we are going to Spain but we are going. (If your are interested in this, click here.)
"But now no longer having a place in these parts, and having a great desire these many years to come to you, whenever I journey to Spain, I shall come to you. For I hope to see you on my journey, and to be helped on my way there by you, if first I may enjoy your company for a while." "Therefore, when I have performed this and have sealed to them this fruit, I shall go by way of you to Spain." (Romans 15:23-24, 28)
The Forge School of Faith - 9
- Date : 1st - 14th December 2016 (Wales) / 15th Dec - 1st Jan 2017 (Spain & Portugal)
- Cost : £200 (Wales : excluding transport), £350 (Spain & Portugal : excluding airfare)
- Language: English Only
* If you are interested in it, please send us this application form and £100 deposit. Click here to download application form.
* 1st deadline is 31st October
[ Prayer & Intercession ]
1. Post Referendum and Pursuing Brexit
Thank God that Owen Smith didn't get the seat of Labour Party leader. I am not supporting Jeremy Cobyn either but Owen Smith wanted to reverse what God has done in modern British history; the Brexit. Teresa May clearly announced that her government will start the process of Brexit in March 2017 and will take back the sovereign government.
She said, "We are going to be a fully independent, sovereign country - a country that is no longer part of a political union with supranational institutions that can override our national parliaments and courts. And that means we are going, once more, to have the freedom to make our own decisions on a whole host of different matters, from how we label our food to the way in which we choose to control immigration."
Also we need to pray for Scotland and Northern Ireland because the majority of Scottish voters want to remain in the EU and Northern Irish too. Nicola Sturgeon is First Minister of the Scottish Parliament, on 13th October she told the party's Glasgow conference that an Independence Referendum Bill would be published next week, which is the first step to a referendum vote, after I finished writing this newsletter. Arlene Foster has been reappointed as Northern Ireland's First Minister.
I sense that this time is so important to be united as the United Kingdom, so that God would release his eternal plan and purpose for such time as this in the UK and through the UK to the Europe and the nations.
2. Reversal of the Laws in the UK
The former PM David Cameron said that he was proud of legalising gay marriage during his Premiership. On 16th December 2011, in a speech in Oxford on the 400th anniversary of the King James Bible, the former PM, David Cameron said, "The UK is a Christian country and we should not be afraid to say so." Also he called for a revival of traditional Christian values to counter Britain's moral collapse.
On 24th December 2015, David Cameron delivered his most religious Christmas message, calling Britain a 'Christian country' whose religious values have made it a "home to people of all faiths and none".
Mr Cameron focused on the issues of peace and security at a time when millions are fleeing war around the world, stressing the importance of Britain's Christian values in shaping how the country responds. "That is what we mark as we celebrate the birth of God's only son, Jesus Christ - the Prince of Peace," he said.
One day Mr Cameron said that we need to revive the Christian values to counter Britain's moral collapse, but he legalised gay marriage which is against Christian Bible values. I know he was a politician and tried to please everyone. But we shouldn't compromise the truth of God in order to please people and to get votes. He made a big shameful scar in his life and modern British history eternally.
I have been praying for a reversal of the British laws to fit to the Kingdom of God. I am not an expert in the legal area but we should pray for lawyers, MPs, judges and politicians to be stirred up, like queen Esther, to challenge the ruler and change the law.
Haman legalised a law to annihilate Jews in the kingdom but Mordecai stood defiantly against Haman and his intention, because Mordecai knew God and his eternal plan and purposes. Queen Esther cooperated with Mordecai and they reversed the law of Haman and got revenge.
"For if you remain completely silent at this time, relief and deliverance will arise for the Jews from another place, but you and your father's house will perish. Yet who knows whether you have come to the kingdom for such a time as this?" (Esther 4:14)
This interesting prayer was given in Kansas, USA, at the opening session of their Senate. It seems prayer still upsets some people. When Minister Joe Wright was asked to open the new session of the Kansas Senate, everyone was expecting the usual generalities, but this is what they heard:
"Heavenly Father, we come before you today to ask your forgiveness and to seek your direction and guidance. We know Your Word says: "Woe to those who call evil good", but that is exactly what we have done."
* We have lost our spiritual equilibrium and reversed our values.
* We have ridiculed the absolute truth of Your Word and called it Pluralism.
* We have worshipped other gods and called it multiculturalism.
* We have endorsed perversion and called it alternative lifestyle.
* We have exploited the poor and called it the lottery.
* We have rewarded laziness and called it welfare.
* We have killed our unborn and called it choice.
* We have shot abortionists and called it justifiable.
* We have neglected to discipline our children and called it building self-esteem.
* We have abused power and called it politics.
* We have embezzled public funds and called it essential expenses.
* We have insitutionalised bribery and called it sweets of office.
* We have coveted our neighbor's possessions and called it ambition.
* We have polluted the air with profanity and pornography and called it freedom of expression.
* We have ridiculed the time-honored values of our forefathers and called it enlightenment.

"Search us, Oh GOD, and know our hearts today; cleanse us from every sin and set us free. Amen!"

The response was immediate. A number of legislators walked out during the prayer in protest. In 6 short weeks, Central Christian Church, where Rev. Wright is pastor, logged more than 5,000 phone calls with only 47 of those calls responding negatively. The church is now receiving international requests for copies of this prayer from India, Africa and Korea.
With the LORD'S help, may this prayer sweep over our nation and WHOLEHEARTEDLY become our desire so that we again can be called "ONE NATION UNDER GOD."
Prayer was made on 23rd Jan 1996; so relevant to this day!
3. Pray for the Queen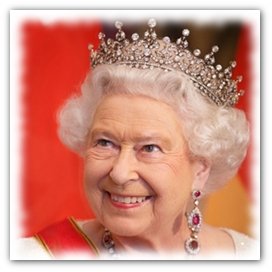 There is a Queen in the United Kingdom though she doesn't have political power; but she is still the head of this nation and has authority. That's why she gives her recognition to the Prime-Minister when the new PM takes over. We remember that her father called the whole nation of Britain to pray when their soldiers were being pushed back into the sea by the Nazis in the second world war. I pray that she would call Britain to pray desperately for its calling and destiny to be redefined. Especially people need to pursue the nation's calling and future regardless of their personal benefit.
4. American Presidential Election (8th November 2016)
The two presidential candidates have had public debates twice and it was awful, ugly and immature. They didn't really debate the future of the USA but talked a lot about their personal past histories and trials. I personally think the physical health issue shouldn't be a debatable topic because if there is serious health issue, the candidates must withdraw themselves for their own sake and the country's sake.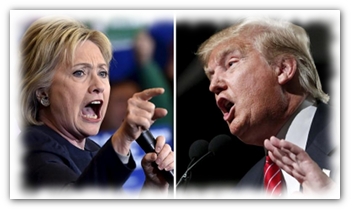 People are using various weapons to damage the other person's reputations and foundations like the terrorist organisation Hamas, but we need to learn how to build ourselves and others in order to build our own country healthfully.
I don't think either of the candidates are mature enough to serve and build the country, unless they are humbled by God. Mrs Hillary Clinton says America is still strong and never weakened, but this is not true at all. She is not telling the truth, but charming and poisoning people with sweet words.
Mr. Obama, from the Democratic Party, has been ruling (or ruining) America for nearly eight years. He shocked the country last October with news that he expressed of running for a third term and he may still want to do using the new American martial law. (read more... a third term president) & (read more... martial law1) & (read more... martial law2)
He has divided the country and made a bigger and deeper the gap between the black and the white communities. Also he has ruined the relationship between America and the Middle Eastern countries including Israel, by issuing the secret Presidential Study Directive 11 in August 2010, and has given ground to the Islamist militants to root down and to grow in the Middle East, Central Asia and North Africa etc..
Mrs Hillary Clinton, who is the presidential candidate from the Democratic Party, is following Mr. Obama's trails of deception and destruction. Mrs Clinton may be an excellent politician but her integrity is below zero. I pray that God would reveal who Mrs Clinton is and would humble Mr Trump, and that he would listen to God.
5. New political relationship signs between Israel and Sunni Arab countries

In a potential sign that Israel's ties with the Sunni Arab axis in the Middle East are getting stronger, the Kuwaiti United Nations delegation - for the first time in history - did not walk out of the hall on Thursday 22nd September 2016 during Prime Minister Benjamin Netanyahu's address to the General Assembly.
In his UN speech, Netanyahu said that in addition to Egypt and Jordan, which already have signed peace treaties with Israel, "many other states in the region recognize that Israel is not their enemy. They recognize that Israel is their ally. Our common enemies are ISIS and Iran. Our common goals are security, prosperity and peace. I believe that in the years ahead we will work together to achieve these goals."
There is still a long way to go, however, before Israel's relations with former regional foes like Kuwait are fully normalized. Just last year, Kuwait Airways - the country's flag carrier - shut down its New York-London route following a US Transportation Department demand that the airline stop illegally discriminating against Israelis through its policy of refusing to sell them tickets. (Quoted from United with Israel; click here)
Shalom Love!
Qday LEE
on behalf of the Forge family

46 Coleshill Terrace, Llanelli, SA15 3DA, UK
(+44) 7870653157
This e-mail address is being protected from spambots. You need JavaScript enabled to view it.
www.theforgewales.org.uk