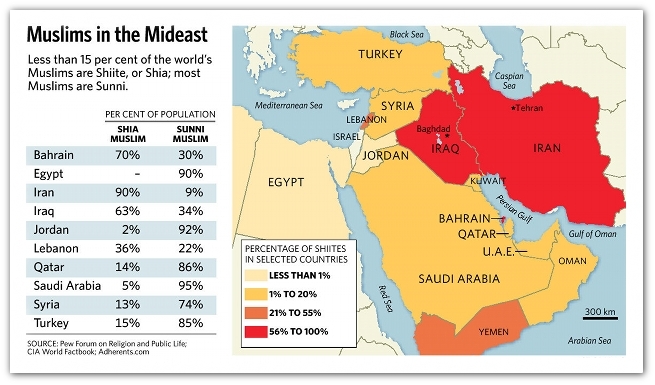 "The Division of Sunni and Shia Islam"
The main difference between Sunnis and Shias lies in their interpretation of the rightful succession of leadership after the death of the prophet Muhammad. The declaration of faith to which all Muslims assent is this: There is no God but Allah, whose prophet is Muhammad. However, the Shiites add an extra phrase at the end: and Ali is the friend of God. Because the Shiites passionately attest to Ali being the successor to Muhammad.
Among the close disciples of Muhammad was Ali, his son-in-law, who was most familiar with his teachings. However, when Muhammad died in A.D. 632, the followers bypassed Ali, whom the Shiites claim as the rightful successor to Muhammad. Instead, a cousin of Muhammad's third successor, Uthman (A.D. 644-656), called Muawiya Umayyad, declared himself caliph. When he died in A.D. 680, his son Yazid usurped the caliphate instead of Ali's youngest son, Hussein. The feud between rightful successors or caliphs was fought at the battle of Karbala. Hussein was slain, but his sole son, Ali, survived and continued the line of succession. Yazid, however, gave rise to the Ummayad line of succession, from which modern-day Sunnism arose.
As for their beliefs, both Sunni and Shia Muslims agree on the five pillars of Islam. While the Sunnites honour Ali, they do not venerate their imams as having the gift of divine intercession. Sunnites conduct community prayers and believe they can have a direct relationship with God. Of the two, Shiite Muslims have a burning desire to engage in martyrdom and believe that suffering is a means of spiritual cleansing. They dwell on the martyrdoms of Ali and Hussein, especially over the ten-day period of Ashura. Also noteworthy is the veneration that Shiites give to the imams, believing they are endowed with infallibility in their interpretation of the Quran.
In terms of actual practice, the Sunni Muslims pray five times a day but Shia Muslims only pray three times: morning, lunchtime and sunset.
Iran is overwhelmingly Shia - 89 percent. Shia Muslims also form a majority of the population of Yemen, Azerbaijan, Bahrain and 60 percent of the population of Iraq. There are also sizeable Shia communities along the east coast of Saudi Arabia and in Lebanon. The well-known guerrilla organization Hezbollah, which forced the Israelis out of southern Lebanon in 2000, is Shia. Worldwide, Shias constitute 10 to 15 percent of the overall Muslim population, but they make up the majority of the radical, violent element of Islam. But interestingly the IS(Islamic State) is Sunni.

IS(Islamic State; Sunni Muslim) militant are drawing new map in the Middle East with the spirit of death: We haven't touched physically the areas where IS has been drawing a new map with the spirit of death. But we have flown, driven, and walked the areas where Babylonians and Persians reigned. God told me that as we are walking and moving by faith, he is drawing a new map of the Kingdom of God. We have seen the signs of new Esther, Mordecai, Daniel, Hananiah, Mishael, Azariah, Nehemiah etc. rising where they reigned in the past. IS invading the Middle East with the spirit of death but we are invading with the spirit of life and love.
---
1. Barak Obama has encouraged the Arab Spring or Arab Spree!
In August 2010, US President Barack Obama issued the secret Presidential Study Directive 11, asking agencies to prepare for change.

He made a major, but

unannounced foreign policy shift regarding the relations to the states of the Arab world.

Instead of supporting stability

Barack Obama

vowed to support change and democratisation in the Arab world.

(source: Wikipedia)



2. Arab democracy brings Arab theocracy!


Israel has long been the only democratic country in the Middle East and nothing much has changed, although the Arab Spring has changed some governments from dictatorships. Even though Barak Obama's intention is to help the Arab World to have democratic governments, they are becoming theocratic, ie ruled by Islamic regimes. These transformed democratic Arab countries are planning to attack and to wipe Israel from the world map. They seem to have democratic elections but actually they are electing theocratic governments, ruled by Allah (the god of Islam).



3. This is not because of political issues but spiritual reasons


Why have almost all the Arab countries been trying to destroy Israel? This is

not because of political issues but spiritual ones.

The same reason Hitler tried to wipe out the Jews. The spirit of Islam knows God's eternal purpose, so he tries to destroy Israel, because

God demonstrates his faithfulness, his covenant and his eternal purposes through Israel.

What we see happening in the Middle East is a horrible picture of war but God's promise of restoration and prophecy of returning are so clear. He is redeeming and restoring his people and his land for his name's sake. He is coming back as King of kings to reign and as Bridegroom to celebrate with his bride, One new Man, Jews and Gentiles.

It is a time of disasters, but it is going to be the time of great celebration.
---
"수니파와 시아파는 무엇이 다른가?"
수니파와 시아파의 가장 중요한 차이는 모하메드가 죽고 난 뒤 누가 그의 뒤를 계승하는 권리를 가졌는지를 해석하는 견해이다. 모든 무슬림이 고백하는 믿음은 같다. 즉 "알라 외에는 다른 신이 없고 그의 선지자는 모하메드이다." 하지만 시아파는 거기에 한 구절을 덧붙인다. "알리(Ali)는 알라(Allah)의 친구이다." 왜냐하면 시아파는 열정적으로 알리를 모하메드의 후계자로 주장하기 때문이다.
알리는 모하메드의 가장 가가까운 제자로 그의 사위이며 그의 가르침을 잘 아는 사람이었다. 그렇지만 주후 632년 모하메드가 죽고 난뒤 사람들은 알리를 따르지 않았다. 대신에 모하메드의 세번째 계승자인 우트만(Uthman; A.D. 644-656)의 사촌 무아위야 움마야드(Mu'awiya Ummayad)가 스스로 자신을 칼리프(caliph; 무슬림 리더)라고 선언했다. 주후 680년에 그가 죽은 뒤 그의 아들 야지드(Yazid)가 알리의 막내 아들 후세인의 자리를 빼앗아 칼리프가 된다. 이처럼 모하메드의 계승자 내지는 칼리프의 자라리를 두고 카르발라(Karbala) 전 투가 벌어지고 거기서 후세인은 죽는다. 하지만 그의 외동 아들 알리가 살아남아 족보는 계승되고 현재 시아파의 시조가 된다. 그리고 야지드는 움마야드의 족보를 계승하고 현재 수니파의 시조가 된다.
수니파와 시아파는 모두 이슬람의 5개 의 기둥이라고 하는 것을 믿는다. 수 니파가 알리를 존경은 하지만 그들의 이맘(imam; 이슬람 교사)이 신적 계시를 갖고 있다고는 생각하지 않는다. 수니파는 공동체적인 기도를 하며 그들이 알라와 직접 교제할 수 있다고 믿는다. 시아파는 순교하는 것에 대해 엄청난 열정을 갖고 있고 고난 당하는 것을 통해 자신들의 영이 맑아진다고 믿고 있다. 그들은 알리와 후세인의 순교 속에 함께 살고 있는데, 특히 매년 10일 동안 후세인의 죽음을 기리는 아슈라(Ashura)를 지킨다. 또한 시아파는 그들의 이맘이 코란을 정확하게 해석하는 능력을 갖고 있다고 믿고 있다. 수니파는 하루에 다섯 번을 기도하고 시아파는 하루에 세 번, 아 침, 점심, 저녁에 기도한다.
이란은 89% 이상이 시아파이고 예멘, 바레인, 아제르바이잔의 다수가 시아파이며 이라크 인구의 60% 이상이 시아파이다. 그리고 사우디 아라비아의 해안과 레바논에도 꽤 큰 시아파 공동체들이 있다. 2000년에 이스라엘을 남부 레바논에서 몰아낸 테러 집단 헤즈볼라도 시아파이다. 전세계적으로 시아파는 무슬림 인구의 10-15%이지만 급진적이고 폭력적인 이슬람의 요소를 가진 주요 그룹이 여기에 속해 있다. 하지만 지금 세계를 떠들썩하게 하는 IS는 아이러니 하게도 수니파 무슬림이다
.
---
1. 바락 오바마가 아랍 스프링을 부추키다

2010년 8월 미국의 대통령 바락 오바마는 "대통령 비밀지시문서 11호(the Secret Presidential Study Directive 11)"를 승인했는데, 여기에는 앞으로 일어날 변화에 기관들이 준비할 것을 지시하고 있다. 공개되지는 않았지만 그는 이 문서에서 아랍 세계와의 외교관계의 변화에 대해서 초점을 둘 것을 지시하고 있다. 그는 아랍 세계의 안정을 지지하는대신 아랍 세계의 변화와 민주화를 지지할 것을 맹세하고 있다. (자료출처: Wikipedia)

2. 아랍의 민주화(democracy)는 아랍의 신정화(theocracy) 시도를 갖고 올 것이다

최근에 아랍 스프링을 통해 아랍 세계에 존재해 왔던 독재 정권이 무너지고 새로운 민주주의 형태의 정부가 들어서는 일들이 일어나고 있지만, 이스라엘은 아주 오랜 동안 큰 변화없이 중동에 존속되어 온 유일한 민주국가이다.비록 바락 오바마가 아랍 세계에 민주정부를 세우는데 도움을 주고자 했으나 실제로 신정 정부(이슬람의 신이 인도하는대로 따르는 정부)로 변하는 일들이 일어나고 있다. 이렇게 민주화된 이슬람 국가들 중에는 이스라엘을 세계 지도에서 없애버리고자 공격을 계획하고 있는 나라들이 있다. 이러한 나라들은 민주적인 절차를 통해서 선거를 치루었으나 이슬람의 신인 알라가 다스리는 신정정부를 택하고 있는 것처럼 보인다.

3. 이스라엘을 멸망시키려는 시도는 정치적인 것이 아니라 영적인 것이다

왜 대부분의 아랍 국가들은 이스라엘을 멸망시키고자 하는가? 이것은 정치적인 이유가 아니라 영적인 이유 때문이다(This is not because of political issues but spiritual ones.) 꼭 같은 영적인 이유 때문에 히틀러도 유대인을 몰살 시키려 했다. 이슬람의 영은 하나님의 영원한 목적을 알고 있다. 그렇기 때문에 이스라엘을 멸망시킴으로 이스라엘을 통해서 열방에 보이시고자 하는 하나님의 신실하심과 그의 언약, 그리고 하나님의 영원한 목적을 없애고자 하는 것이다.

지금 중동을 비롯한 곳곳에서 일어나고 있는 전쟁의 그림은 끔찍하지만 회복과 재림에 대한 하나님의 예언적인 약속은 더욱 분명해지고 있다. 하나님은 당신의 이름 때문에 당신이 택한 백성과 그 택하신 땅을 구속하시며 회복하고 계신다. 그는 왕중의 왕으로 다시 오셔서 다스릴 것이며 유대인과 이방인이 하나가 된 그의 신부와 혼인 축제를 베푸실 것이다. 지금은 재난의 때이지만 위대한 축제의 시간이 다가오고 있다.