Newsletters
Poisoned but Promoted
(The Forge Newsletter_09_2019)
They were waiting for him to swell up or suddenly fall down dead. But when they had waited a long time and saw no misfortune come to him, they changed their minds and said that he was a god. (Acts 28:6)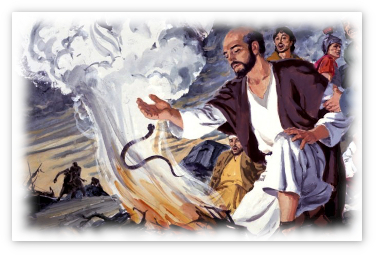 After three mission trips, the Apostle Paul could have gone to Rome as an Apostle, without being arrested in Jerusalem. Although he was told he was going to be arrested and handed in to the Gentiles, he went up to Jerusalem, was arrested and was taken to Rome as a prisoner. The ship that he was sailing on was driven by the storm for fourteen days and nights and the captain and sailors threw their cargos and equipments overboard. Paul received a promise from God that no lives would be lost, and told everyone on board. In the end, the ship was wrecked but all the people were saved, and made it on to an Island.
It was cold and raining. The native people made a fire for the people rescued from the sea. When Paul had gathered a bundle of sticks and put them on the fire, a viper came out because of the heat and fastened on his hand. When the native people saw the creature hanging from his hand, they said to one another, "No doubt this man is a murderer. Though he has escaped from the sea, Justice has not allowed him to live." He, however, shook off the creature into the fire and suffered no harm. They were waiting for him to swell up or suddenly fall down dead. But when they had waited a long time and saw no misfortune come to him, they changed their minds and said that he was a god.
1. If I don't go down to the position of prisoner, I may show myself rather than God
If I keep my position as an Apostle, people may see me rather than God. Yet if I go down to the position of servant and prisoner willingly, God can be revealed and he leads me onto my destiny. Paul didn't go looking for servitude or imprisonment, but when God warned him it was coming he walked straight towards it. He was not interested in keeping his position, but in serving God.
2. When I face an overwhelming storm, what I trust in will be exposed.
Before Paul faced the storm, he was just one of 276 people including the prisoners. Afterwards he was revealed as a man of God and the people experienced the living word of God when they were caught by the deadly storm. Sometimes God sends life-threatening storms in order to reveal himself and to cause us to give up everything and to seek him.
3. I can board a new ship that God has prepared for me when my old ship is wrecked
I am so comfortable with my current ship, so I want to carry on my journey with it. But God allows my ship to be wrecked so that he may be revealed through me and may give us a new ship. If I insist on travelling with my current ship, I might be sunk with it.
4. We shouldn't respond to the poisonous snake when we are bitten
We need to learn how to respond to God when we are bitten, instead of responding to the snake. Our instinct is to stone it, yell or jump up and down. When someone suddenly bites us, or runs around trying to bite us, we shouldn't respond to the person. Instead we need to wait before God because no poison can defeat the love of God.
5. When I am bitten, then I know who I truly am
Before Paul was bitten by the snake, he was a prisoner. Also the natives regarded him as a true murderer when he was bitten by the snake. But they all changed their minds and believed that he was a god because he didn't die after he was bitten. Sometimes God allows us to be bitten, so that people's mind may be changed and we might be promoted.
Joseph was bitten and poisoned in an unexpected way and by unexpected persons: his own brothers. It was like dying and it seemed like the end of everything, but he realised who he was and God revealed himself to him. After two more years imprisonment, God promoted him to be the Prime Minister of Egypt and helped him to pursue his destiny. He didn't respond to his brothers or to Potiphar's wife either, although he had enough power and position.
[ Prayer & Intercession ]
1. No-deal Brexit or No Brexit? (Money or Sovereignty)

(When the Apostle Paul started his journey to Rome, nobody listened to him except his companions; Luke and Aristarchus. Boris Johnson has spoken up about a No-deal Brexit and the suspension of Parliament, but not only opposition party but also a few members of his own party have defied him. If they continuously don't listen to him and carry on their journey, they might face a horrendous storm and lose their courage, cargos, equipments, and in the end the current ship might be wrecked.)
Former British Prime Minister Theresa May had to resign because she failed to get through her Brexit proposal. Now Boris Johnson has been appointed as new Prime Minister and he really wants to take Britain out of the European Union, deal or no-deal, on 31st October 2019 as scheduled.
Korea was colonised by Japan for 35 years (1910 - 1945). Our ancestors fought against the Japanese to restore our own sovereignty. Many of them gave their lives for it. Britain has been overshadowed by the EU for over 40 years since she joined the EEC (European Economic Community). Then Britain had a referendum in 2016 and people showed that they want to leave the EU and take back their own sovereignty, even though it may affect her economy negatively. Sovereignty is much more important than money. However, there are some people want to stay in the Eu because of financial/economic security.
British people shed a lot of blood in foreign lands to protect those territories and her own sovereignty from Hitler. However, Britain has handed her sovereignty over to the EU without shedding a drop of blood because of economy. Now is the time Britain has to redeem her sovereignty, at all costs, in order to pursue her destiny.
A nation's fate is in God's hand. While Hitler was sweeping Europe, God fulfilled his will through his people who interceded, like Rees Howells. The EU leaders are controlling the EU nations with money but this world is not under the control of money. In the end, God is controlling this world, and his Kingdom is advancing through prayers. Let's pray that Britain may be raised again as nation of prayer and a missionary sending nation.
2. Conflict between Korea and Japan
When we were in Korea, there was an on-going dispute between Korea and Japan. Relations were tense and it was getting worse. In the end, the Japanese government removed Korea from its "White List" of favoured trading partners, and the Korean government didn't extend its military defence alliance with Japan.
To summarise the situation:- the Korean Government is pursuing, through its supreme court, proper compensation for the relatives and descendants of those who suffered and died in forced labour under Japanese rule during the Second World War. However, in the Korea-Japan Treaty of June 1965, the Korean Government accepted the compensation offered at that time by the Japanese government and received payment. This treaty agreed the nullifying of all previous treaties between Korea and Japan.
The Korean military government of the time didn't care whether the Japanese government officially apologised for their wrong deeds or not. They were in desperate need of resources for building up the Korean economy and hurriedly agreed and received the sum of money offered. Some of the money was paid to the victims but it wasn't much.
Japan used the defeat of 1945 to "wipe out" all its crimes against Korea, without acknowledging or apologising for anything. This is not surprising as Japan has a very strong "shame culture". However, Germany surrendered in the same way, also in 1945, and its war criminals were sentenced at Nuremberg War Court. Some are still being tracked down and prosecuted. Also the German government has officially acknowledged and apologised for its crimes.
Nevertheless, Korean governments shouldn't use this issue for their political party's benefit. Even though Japanese governments don't apologise, Koreans need to forgive the past, otherwise Koreans cannot move forward. Instead we are shackled the ankles or necks, and will keep circling around with hatred.
Didn't Korean soldiers do wrong deeds in the Vietnam War? If the Vietnamese ask for compensation and apology, will the Korean government make excuses and pass the buck to the American government who instigated this war?
Although the Japanese government hasn't apologised officially, Korea should move forward and pursue her own calling and destiny. If Koreans really want to deal with this issue, they should take it to the United Nations International Court, not expect Japan to bow to a ruling of the Korean Domestic Court, when a treaty had already been signed and fulfilled by them.
Recently Koreans are making noise about the development of their main import item from Japan: Hydrogen Fluoride(HF or Etching Gas). Both LG and SK claim that they are testing Korean HF products and will produce it before the end of this year. It is great news, but I think it is more important to develop Koreans' characters rather than to develop HF.
Jesus told his disciples and us that if we forgive anyone, their sins will be forgiven. Also he taught us to ask for our sins to be forgiven as we forgive others when we pray. Jesus forgave those who crucified him even though they didn't ask for his forgiveness. That's why he didn't find them to get revenge after he was raised up from the dead. Although God has given to Korea the privilege of forgiving Japan, Koreans don't recognise their position. Instead Korea seems to attack Japan as the victimised. (Note: In the light of all this, how amazing that God led the Celebration leaders to organise this year's Celebration for the Nations in Tokyo, Japan! See News report below.)
[ News Update ]
1. Our family visit China, Korea and Japan: Losing is gaining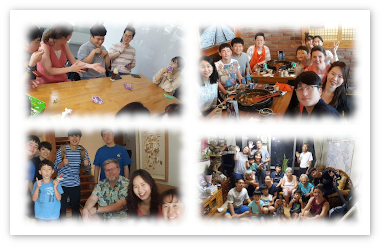 Our family visited China, Korea, and Japan over the summer time. We had a great time, but right from the beginning it was hard work! We were almost not allowed to board at Heathrow airport because of Chinese visa misunderstandings. We did get on the flight but Noah lost his iPad on the aeroplane in Shanghai. Bridget left her Kindle on a bus in Korea, lost (and found) her mobile phone twice in Japan. Yohan lost his Welsh dragon toy, and I lost my shoes. God gave us some opportunities to serve others and to receive new things through losing the old things.
While we were in Korea, we had to move house seven times, so we tasted a bit of nomadic life. Each time we had to wait with anxiety and worrying, but God provided wonderful accommodations in the end. Noah and Yohan went to a Christian alternative school for six weeks. They had wonderful time with good teachers and pupils, also Bridget spent meaningful time with the mums. Noah is going to be 13 years old next February, so we are praying and wondering whether Noah needs to return to a public school or not. I travelled down to my mother's place each week and spent time with her.
I am really thankful that some friends of ours helped in various ways while we were in China, Korea and Japan. Without your helps, we would not have been able to make this journey of faith.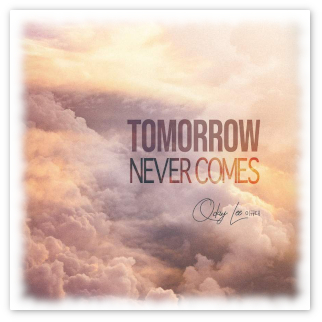 2. My music album has been published at the end of 4 years journey
About four years ago God encouraged me and a brother helped me to start to record my songs. Also many others musicians and artists helped, including with finances, to finish this art work. It wasn't easy for me, but I wasn't alone, so I was able to complete it. This isn't perfect but I have obeyed what God had told me to do so as Moses made a bronze serpent. I do expect that God is going to use it. If you want to get the album, please contact me (in UK) or my brother-in-law (in Korea, Joong Jin YANG (+82) 010-9665-7856 / This e-mail address is being protected from spambots. You need JavaScript enabled to view it. ) or you can download it from the internet or you can listen to a few songs on You Tube. You may need to pay a bit of money or postage. Also welcome your donation.

(https://www.amazon.com/gp/product/B07WS3S7TS/?tag=distrokid06-20)
(https://music.apple.com/us/album/tomorrow-never-comes-single/1477550477?app=itunes&;ign-mpt=uo%3D4)


[ On You Tube link ]
1. Tomorrow Never Comes!
2. The Only Way
3. Beginning & End
4. Enough
5. The Most Beautiful Thing
3. Celebration for the Nations 2019 in Japan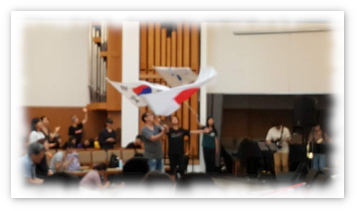 Early this year, the leaders of the Celebration for the Nations felt that God wanted us to worship him in Japan this summer with Japanese, Chinese, Koreans, and some other nations. So in July, over 200 people came to Japan to lift him up, and proclaimed that we are one in Jesus. I believe that God received our unity; Japan, China, Korea and others. There was no other issue but worshipping our Heavenly Father and Jesus in the Spirit of God. That's why the serpent came out and bit us because of the heat of worship and love. The love of God is stronger than the poison.
---
Springs Gathering in Galilee, Israel
On 29th September is Jewish new year. So from 29th September to 3rd October the 3rd Springs Gathering will be held in Tiberias in Galilee, Israel. Jewish believers, Arab believers and others are gathering together to worship Jesus the Messiah and to intercede in order to build His Body and His Kingdom. Please come to join us.
- Dates : 29th September - 3rd October 2019
- Venue : Morning Star Fellowship (Tiberias, Galilee, Israel)
- Contacts : This e-mail address is being protected from spambots. You need JavaScript enabled to view it. / www.facebook.com/springsgathering/ (Joseph LEE)
The Forge School of Faith
- Date : 2nd - 16th November 2019 (Wales) / 21st Nov - 4th December (Forge Trip)
- Cost : £300 (Wales, excluding airfare) / £450 (Forge Trip, excluding airfare)
- Language : English Only (No translation service)
- Contacts : This e-mail address is being protected from spambots. You need JavaScript enabled to view it. / (+44) 7870 653157
3 Days Prayer & Fast for Israel and UK
- Dates : 25th - 27th November 2019
- Venue : Brunel Manor, Torquay, Devon, TQ1 4SB
- Contacts : 07919620566 (Anne Rowntree) / This e-mail address is being protected from spambots. You need JavaScript enabled to view it.
Shalom Shalom!

Qday LEE

on behalf of the Forge family
This e-mail address is being protected from spambots. You need JavaScript enabled to view it.

(+44) 7870 653157