Newsletters
Obstacle is Opportunity
(The Forge Newsletter_01_2020)
And when the king of Israel read the letter, he tore his clothes and said, "Am I God, to kill and to make alive, that this man sends word to me to cure a man of his leprosy? Only consider, and see how he is seeking a quarrel with me." (2Kings 5:7)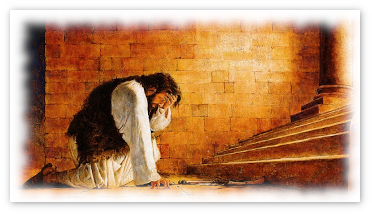 When King Hezekiah heard that Rabshakeh, officer of Sennacherib king of Assyria, was mocking God and the people of God, he tore his clothes and covered himself with sackcloth and went into the house of the Lord. He knew God and trusted the prophet of God, so he sent his messengers to Isaiah. Also, when he received a mocking letter from Rabshakeh, he went into the house of the Lord and spread it before God and prayed. That night the angel of the Lord went out and struck down 185,000 in the camp of the Assyrians. Then Sennacherib king of Assyria departed and was killed by his sons at Nineveh. (2Kings 19:1-2, 14, 35-37)
When this King of Israel read the letter from the King of Aram, he tore his clothes because he couldn't heal the General Naaman, who was a leper. However, Naaman came, not to meet the king of Israel but to meet the prophet of God, who probably would heal him. Nevertheless, the king of Israel thought the king of Aram sent this leper General to seek a war. Why didn't he take this issue to God or the prophet of God? Because he didn't know God or the prophet of God.
Although a little girl from Israel lost everything and became a slave to serve Naaman's wife in Aram, she surely knew that the prophet of God would heal Naaman's leprosy. However, the king of Israel had everything and didn't know that God or the prophet of God could heal leprosy, so he was distressed and depressed. But when Elisha heard that the King of Israel had torn his clothes, he sent a message to the King to send Naaman to him so that he would know there was a prophet of God in Israel.
If I try to do the things that God or other people are supposed to do, I will either be proud of myself or depressed. Elisha not only didn't lay hands on Naaman, he didn't even come out to meet him, so that God would get his glory.
The leper Naaman's visit was a big problem to Israel but it was a great opportunity to make God known to Aram. However, the king of Israel misunderstood and thought that it was a trick of the Aramaean king to seek a war. If we don't know God and don't trust in him, we naturally interpret situations as a threat.
When God sends us a problematic Naaman in order to release His power and eternal purposes, or sends us Jonah's storm in order to stop our voyage to return to Him and his purpose, it is a great opportunity for us to be changed and to make known God and to expand His Kingdom, although we may need to go through the valley of the shadow of death.
[ Prayer & Intercession ]
1. Post-Brexit is more important than Pre-Brexit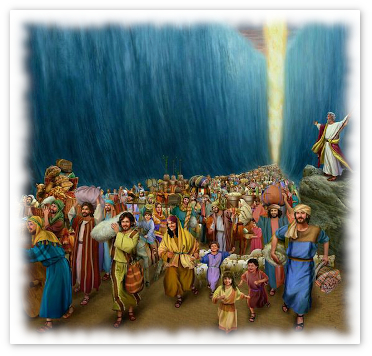 For the last three years Britain has been in a political whirlwind, since the Brexit Referendum in 2016. Things are calmer now since the general election on 12th December 2019, but another wave is coming after 31st January 2020. Therefore Britain and the EU countries need to get prepared for the Post-Brexit.
The Israelites expected that they would enter straight into the promised land after crossing the Red Sea. However, the wilderness was waiting for them where nothing was guaranteed and everything was uncertain and fearful. When water and food ran out, they quickly wanted to return to the slavery land of Egypt where food and water were guaranteed. There is nothing in the wilderness and nothing is guaranteed, but every possibility is waiting for us. Therefore the wilderness is the land of mystery: no clothes or shoes wore out, manna was provided daily from Heaven, water flowed from the Rock, and the pillar of fire and the pillar of cloud were with them always, for forty years.
However, the wilderness is not our destiny but it is necessary to get rid of slavery habits and to practice serving God by faith. Without faith in God, we cannot live in the wilderness and we cannot prepare ourselves to live in the promised land. From 600,000 men who left Egypt, only Joshua and Caleb entered the promised land.
Brexit is like the Exodus: coming out of the land of slavery. The 2016 Brexit Referendum and 2019 General Election both had really unexpected results, like an avalanche that has changed the map in many areas. In a few days time, Britain is leaving the European Union legally. But everything is not being sorted out automatically as Britain leaves. Britain has to face the Egyptian army who will chase her, and the bitter waters at Mara. However, Brexit will restore her true identity, her own sovereignty and encourage her to pursue her destiny, so that she will be a blessing over the European countries and the nations.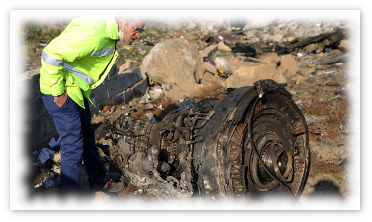 2. Iran's Military Hegemony and Antisemitism
On 3rd January 2020, the second most powerful man in Iran, Qassem Soleimani, was assassinated by a US MQ-9 Reaper drone missile. In response, on 7th January, Iran fired 22 ballistic missiles at two US bases in Iraq. But a few hours later, unexpectedly, a Ukrainian civilian aircraft was shot down by an Iranian air-defence missile and 176 people were all killed. Now a wave of internal criticism has turned from the US onto their own government.
The current Iranian Islamic Shiite government has been influencing in the Middle East with military power but the root of its military hegemony is spiritual. The reason why Iran tries to wipe out Israel from the map is spiritual. God made a covenant with Abraham to give the land of Canaan to his descendants forever. It looked as though Satan had managed to wipe out the nation of Israel for two thousand years and God couldn't keep his promise, but Israel was born again in 1948. That's why Satan has been using Iran to try to destroy Israel.
God didn't choose the Jews because they were special, but they are special because God has chosen them as a priest nation for the nations. Although God broke and scattered them among the nations when they were arrogant, he left the stump and brought them back to the ancient land to rebuild the nation of Israel. So he has demonstrated his faithfulness to the world.
Ancient Persia existed in the land of Iran and notably, Esther, Mordecai, Nehemiah, Ezra, Daniel, Hananiah, Mishael and Azariah (Shedrach, Meshach and Abednego) lived, prayed, fasted, declared and released the purpose of God and the Kingdom of God in that place. Even now the prayers and purposes of God are waiting for His time and some of them are working in Iran wonderfully and powerfully. Therefore Iran is a very special land. There are still a few Jews living there and keeping the feasts of God, and many Iranians are coming to the Kingdom of God through visions, dreams, and wonders of God.
[ News Update ]
1. New Lifestyle
From this year the school bus rules and regulation have been changed, so Noah cannot use the school bus any more. He now rides his bicycle to school everyday. When we home-schooled them, they barely got up at 8am for breakfast, but now Noah wakes himself up about 6:30am, jogs with me around a small lake, takes a shower, and we have breakfast, a brief family devotion time, then he leaves at 8:30am from the house.
Now every night I read a short Bible story to Yohan and pray for him before he goes to sleep. Also I try to make conversation with Noah about the subjects of teens and we pray together. Still every night I and Bridget hold hands together and pray for various people. This is how we are putting into practise our faith that God wants to work in our family and through us.
2. Black Mountain to Ffald-y-Brenin
Every end of year and beginning of year, I normally go to camping by myself to the Black Mountain for four days. Last December, I felt God wanted me to go to Ffald-y-Brenin instead of camping in the Black Mountain. I didn't know why, but I went there with my tent. As I arrived, I met a French couple who just visited for 3 hours. We had amazing time with His encouraging words and we both wept with joy. They told me that God sent me there for them. Also I met a Zimbabwean church group and they invited me to have a meal together. God was amazing that he released His word each one of them, especially to the pastor. They told me that God sent me there for them as the French couple told me.
3. Between Life and Death
Two weeks ago, a close friend of mine suddenly passed away. He served people in Malaysia for over 20 years as missionary. Also a carpenter christian brother who served at a local church, local communities, and missionary organisations, passed away at the age of 90. I am seeing everyday elderly people who are getting slower and weaker. We ourselves are also getting older! Also some younger people we know are suffering from drug addiction, alcohol addiction, and depression. These things remind me that we all have a limited time here on earth so let's not waste our time but make the most of life.
4. The Forge family gathering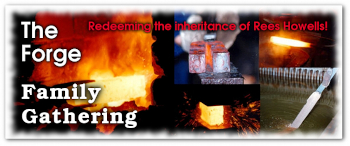 I started this faith journey to redeem the spiritual inheritance of Rees Howells in January 2009 although I had no idea what I was doing but I carried some prayer burdens. Meanwhile in December 2013, the Forge School of Faith was begun and the Forge Community launched.


When I look back over the last 6 years, I can see some challenges and encouragements. A large number of people came and went through the Forge School and the Forge Community, and we have sown the seeds of intercession in Israel, the Middle East and Europe. Last year some leaders suggested that it might be good to have the Forge Family Gathering this year with those who have been the Forge School to share back, encourage and bless each other for the next journey. So, here we are.
- Date : 23rd - 30th May 2020
- Venue : Wales
- Cost : £150
- Who : Those who have been to the Forge School and wish to renew connection and vision with the Forge
5. Owen & Seungae's Visit to Korea and Visa Extension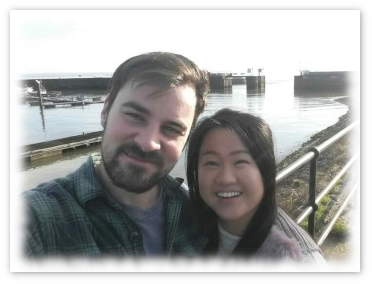 Seungae's parents invited Owen and Seungae to come to Korea to spend time with them. So they are flying out on 26th February and returning on 9th April. Also Seungae needs to extend her U.K. spouse visa in July, so please pray for finance, wisdom.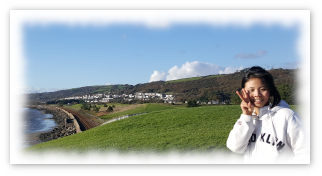 6. Naeun's the Forge Journey
Naeun is a young Korean lady, came to the Forge last October, so she has been with us for three and half months. This is her brief testimony.

"I realized that l've been completely changed from doubting God to relying upon him fully. And also l've got to know that his is not only God of punishment but also God of love, grace and joy, and actually his grace is so great that he comfort all troubled, agonized, nervous and tense heart. Faithful one, so unchanging.... Unfailing love.... He has led me here so far faithfully. He showed me his great love and pour it to me so that my heart can overflow with his love and grace and also be full of joy. Before l came forge home, l was full of concern about my future and also l wasn't confident for myself. However, now l can sense that he really wants to encourage me and he is doing. Now l am confident because l know he keeps his eyes on me."
7. Bongo & Julie, and Qday's Journey to Israel

Bongo and Julie are an international couple who have got lovely hearts to serve and care for many people around, and have been praying for Israel for many years. Julie is going to be 60 years old soon, so they want to have a special celebration in Israel. When they asked for some advice about the trip to Israel, I realised that they want to go at the same time I would be in Israel. So we are going together for two weeks: we are participating in the Springs Gathering on the first week and we are travelling on the second week. Please pray for release of what God has prepared for us and through us into Israel.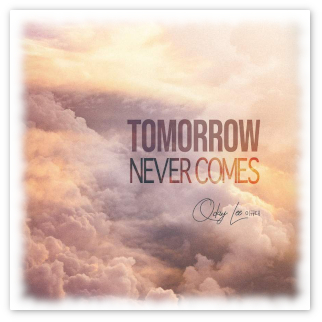 8. Qday's Music Album: "Tomorrow Never Comes!"
It took four years to complete this music album with help from many musicians and artists including prayers and finances. It wasn't easy for me, but I wasn't alone, so I was able to complete it. This isn't perfect but I have obeyed what God had told me to do so as Moses made a bronze serpent.

- You Tube link:
1. Tomorrow Never Comes!
2. The Only Way
3. Beginning & End
4. Enough
5. The Most Beautiful Thing
6. Set Free
7. Let Your Kingdom Come
- Amazon link: (https://www.amazon.com/s?k=Qday+LEE&;i=digital-music&search-type=ss&ref=ntt_srch_drd_B07WXFVM2Y)
- Apple Music link:(https://music.apple.com/us/album/tomorrow-never-comes-single/1477550477?app=itunes&;;ign-mpt=uo%3D4)
---
Springs Gathering in Galilee, Israel
Jewish believers, Arab believers and others are gathering together to worship Jesus the Messiah and to intercede in order to build His Body and His Kingdom. Please come to join us.
- Dates : 12th - 16th April 2020
- Venue : Morning Star Fellowship (Tiberias, Galilee, Israel)
- Contacts : This e-mail address is being protected from spambots. You need JavaScript enabled to view it. /www.facebook.com/springsgathering/ (Joseph LEE)
Celebration for the Nations Spring 2020, Wales
Worshippers and intercessors to come together and 'sing to the well' in Wales.
- Date : 28th - 30th May 2020
- Venue : Ty Gwyn Community Church, Llanelli, South Wales, United Kingdom
- Contacts : https://www.facebook.com/celebrationforthenations
Celebration for the Nations 2020, Japan
Worshippers and intercessors to come together and 'sing to the well' in Tokyo, Japan.
- Date : 21st - 26th July 2020
- Venue : Tokyo Central Church, 3 Chome-2-16 Takada, Toshima City, Tokyo 171-0033, Japan
- Contacts : https://www.facebook.com/celebrationforthenations
Shalom Shalom!
Qday LEE

on behalf of the Forge family
This e-mail address is being protected from spambots. You need JavaScript enabled to view it.

(+44) 7870 653157